See the stately complexes and rich culture in its Desert circuit
Known as the Great Indian Desert, Thar Desert is the most colourful desert in the world. Lying between the
Rajasthan
, Western India and South-East of Pakistan, Thar desert make Rajasthan one of the most sought after destination. Discovering the desert in India is not only full of giving an opportunity to explore the tremendous land of sand, but also be aware of its rich cultural and historical heritage,which comprise its inseparable parts.
Spreading its area in India as well as Pakistan, Thar Desert attracts most of the tourists visiting Rajasthan, one of the most vibrant state of India. Covering the entire area of more than 2,50,000 Km, Thar Desert in India fascinates tourists by giving tourists an amazing opportunity to enjoy its world famous
Camel Safari
. Exploring the Indian desert circuit formed by Jaisalmer, Bikaner and Jodhpur, three of the historically most popular cities of Rajasthan, simile a good fortune to have.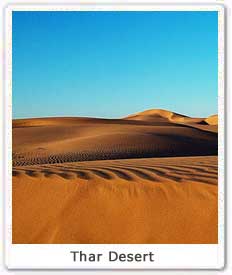 Jaisalmer : Weigh the unending desert with Sam sand dunes
Thar Desert, Jaisalmer Being at the beautiful sand stretches of sand dunes, approx 40 Km far from Jaisalmer is the best way to explore the Great Indian Desert. Specially, witnessing the beauty of sunrise and sunset at Jaisalmer's Sam sand dunes form the best excursion which one can have in desert exploretaion. The Camel Safari, normally, consists of 4 days and three nights which makes one enjoy the desert tour in the best leisurely fashion. Amusements like watching the performance of folk artists, visit to traditional villages and meeting with local people in their usual colourful attire are worth putting visitors at immense fascination.
Bikaner : Magical charm of desert is here
Siting on the Camel back, tramping through the yellow sand, and weighing the unending sand land constitute one of the best adventures which one can avail in his desert safari tour. Staying overnight in tents and mud huts, and enjoying various amusing activities are full of mirth. Besides, passing through plenty of magnificent and historical complexes make visitors fall into the deep impression of rich Indian architectural possession.
Jodhpur : The Region of Rajput Rulers
Explore the historical attraction of Jodhpur along with its sand dunes
Once capital of Mewar state, the desert city of Jodhpur lies on the edge of Thar desert. Housing the massive historical palace, Mehrangarh fort, this 2nd largest city of Rajasthan gives one ample of opportunity to enjoy desert safari as well. World famous for its Desert kite festival which is organised every year, this old city also houses several desert camps. Equipped with all kind of modern amenities, these desert camps put the adventurers at their best zeal of discovering the Great Indian Desert.
Mixing various amusement activities with extreme adventurous Camel safari is the best way through which one can own plenty of fondling memories to cherish forever.