Location :
Jaisalmer, Bikaner, Mandwa (in Rajasthan).
Best Time :
November to March.
Tips :
Find out what arrangements are being made for accommodation, food and drink and other essentials, before you start your trip.
Camel Safari in Rajasthan - India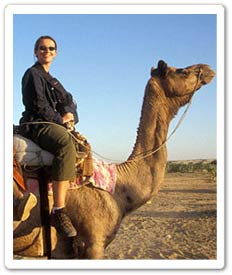 When you are coming to India, then don't forget to experience the Camel Safari, as this experience will leave some unforgettable moments in your life. Thar - the Great India Desert, sprawls across the western extreme part of the state of Rajasthan in India, offering some very daunting sand zones of the world. Camel - ponderous, surly, smelly and generally unattractive are the main source of this safari on this sand zone.
The barren desert and drifting sand dunes of Rajasthan India will overwhelm you by sounds and sights, colours and fragrances. You will come closer to the real culture and tradition of Rajasthan, as the camel safari will enter deeper & deeper into the land. The camel safari will acquaint you with the desert life. Though there are many other means of touring the land of Rajasthan, camel safari is the best way to explore this desert state of India.
Some Best Location for the Camel Safari
Most
camel
safaris start from Jaisalmer, which is well connected by air, train and road to the rest of India. Rajasthan's capital, Jaipur, is also a convenient starting point for exploring the state, whether on camel or otherwise. Jaipur is a well-connected by air, as well as regular train and bus links to a number of cities through out India. All camel-safari towns in Rajasthan, such as Bikaner and Mandawa, are connected by road to Jaipur. Buses run between all the major towns of the state, and private cars or taxis can be hired to do the trip.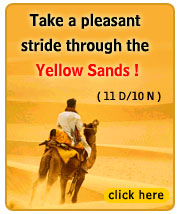 Things to bring
As the Camel Safaris are generally arranged in the winters, you will require woolens. You will also need to carry beds, sleeping bags, blankets. During the daytime, you may require sun hat, a pair of sun glasses, and suntan lotion as the sun is blistering at this part of the day. Carry a first aid kit along with you, as well as any other essentials you might need every day.
Some Basic Facts
A large number of travel agents and tour operators in Rajasthan organise camel safaris. Most of these are in the vicinity of Jaisalmer, Bikaner, Osian and Khimsar, and stretch from anywhere between 2 to 7 days, with longer ones of up to a month. Shorter, day-long camel safaris which just about give you a glimpse of the desert are also organised. The majority of camel safaris start from the desert fort town of Jaisalmer.