Classification
| | |
| --- | --- |
| Kingdom : | Animalia |
| Phylum : | Chordata |
| Class: | Aves |
| Order : | Anseriformes |
| Family : | Antidae |
| Genus : | Anas |
| Species : | A. platyrhynchos |
| Zoological name : | Anas platyrhynchos |
| Found In | Madhav National Park, Panna National Park, Nameri National Park, Bharatpur Bird Sanctuary and Hemis National Park in India. |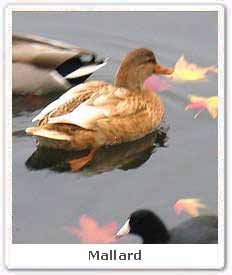 Physical appearance :
Mallard is 15 inches long and weigh around 750- 1,000 g. The size of its wings measures around 35 inches. They have black stripe that run horizontally through the eye. Males have gray, black and yellow bill while the females have orange bill with black central patch. Males have chestnut breast , gray flanks, upper wings coverts, black under-tail coverts contrast with white tail and have white ring around its neck. Females have pale brown face, dark cap and eye line, mottled brown and tan plumage. Both male and females have orange feet.
Presence in India :
Mallard is found in the north and central part of India. It can also be spotted in the Madhav National Park, Panna National Park, Nameri National Park, Bharatpur Bird Sanctuary and Hemis National Park in India.
Habitat :
Mallards prefers shallow inland waterways, such as ponds, lakes, rivers, reservoirs, and marshes.
Diet :
Mallard are omnivorous and feeds on seeds, plants, shoots, buds, grain, acorns, aquatic invertebrates and insects. In most parts, humans provide them abundant food through out the year.
Reproduction :
Mallard usually make nests near water sites. Mating season rests between September and March. It lay 6- 15 eggs. Mallard reach the level of sexual maturity at one year of age. Females incubates the clutch for 28- 30 days. Young birds are fledged for 42- 60 days.
Conservation status :
Least concern. It is one of the most widespread duck. It's population is currently increasing. This duck is not the threatened specie.
Lifespan :
Average lifespan of Mallard is around 29 years.