Classification
| | |
| --- | --- |
| Kingdom : | Animalia |
| Phylum : | Chordata |
| Class: | Mammalia |
| Order : | Carnivora |
| Family : | Felidae |
| Genus : | Panthera |
| Subspecies: | P. t. tigris |
| Species: | P.tigris |
| Zoological name : | Panthera tigris tigris |
| Found In : | Corbett, Manas, Bandipur, Sariska, Kanha, Ranthambore and Sundarbans National Park. |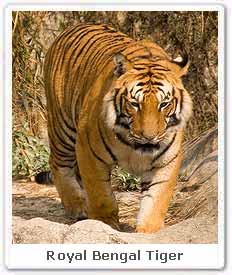 Physical appearance :
Royal Bengal Tigers are 6 - 9 feet long and weigh around 400- 600 pounds. They have large head, big ears and thick whickers. Its fur are reddish gold in colour. They have stripes all over their body. Males are usually larger than the females. Their tail is 3 feet long. They have large padded paws with retractable claws. They have white spot on the back of their ears, which looks like eyes. Bengal Tigers have great vision and strong sense of smell.
Presence in India :
Royal Bengal Tigers are easily found in the jungles of West Bengal, Madhya Pradesh, Assam, Rajasthan, Orissa, Uttar Pradesh and Tamil Nadu. They are also spotted in some of the major National Parks and Wildlife Sanctuaries of India such as Corbett, Manas, Bandipur, Sariska,
Kanha
, Ranthambore and Sundarbans National Park.
Habitat :
Royal Bengal Tigers prefers dense forests and lush grasslands.
Diet :
Bengal Tigers are carnivorous. They feed on large variety of mammals such as deer, antelope, pigs, buffaloes, humans, wild boars, gaurs, hares, monkeys, wild ox, langur, peacocks, wolves, crocodiles, dholes and many more.
Reproduction :
Bengal Tiger reach the level of sexual maturity in 3- 4 years of age. They usually mate during the spring season. Gestation period rests for 95 -112days after which the tigress give birth to two to four cubs.
Conservation status :
Highly endangered
Lifespan :
Lifespan of the Royal Bengal Tigers exceeds up to the 15 years of age.