Major Location :
Alaknanda, Bhagirathi, Indus, Zanskar and Teesta.
Best Time :
August and September or Spring season or the early part of summer season.
Tips :
Avoid the winter and the rainy season.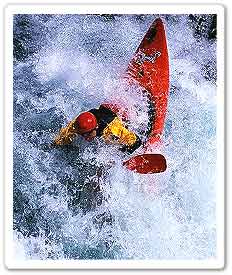 White Water Rafting in India
White water rafting has become one of the most popular choices of adventure travelers. Many rivers in India have been run for decades by professional white water rafting teams. Generally this sport is almost exclusively limited to the northern rivers which flow southwards from the Himalayas, gushing between thickly forested mountains and through steep gorges. Rivers such as the Alaknanda, Bhagirathi, Indus, Zanskar and Teesta offer challenging rapids, and a trip down a river can be a fantastic way to view the countryside.
Thins to Know
Equipment You Will Require
There are many tour operators and Government tour offices offering arrangements for the river rafting. The equipment include food, equipment, lifejackets, helmets, an expert guide, and accommodation.
Things to Carry
A love for adventure and a passion for the great outdoors is top priority. More practical things to pack include a good sunscreen, dark glasses, shorts, T-shirts (or other light, quick-dry clothing) and suitable shoes- sneakers or heavy duty rubber sandals may be a good idea. Also pack in a windproof jacket, a light sweater, towels, and a flashlight- and don't forget the first aid box and the camera!
An Important Note
River rafting in some areas may require special permits from the government. Areas close to India's international borders, such as Nubra, Sikkim, Lahaul and Spiti may be off-limits to foreigners without a valid permit. Before venturing out with your oar and your life jacket, make sure you have got all the necessary permits which are needed. Permits can usually be obtained fairly easily from District Commissioners, District Magistrates or other senior officials. Enquire at the Ministry of Home Affairs in New Delhi to figure out whether you need a permit, and who can provide it to you.
NOTE :
Do not try to spoil the ecosystem. Respect the beauty of the land, and don't do anything that's likely to harm the environment. Don't leave a trail of litter and waste behind you; carry your own fuel, food and supplies, and don't use detergents or other chemicals which could wash into the river and pollute it.