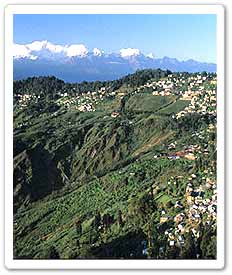 Location :
In eastern
Himalayas
, it is a small hilly state in Himalayas, extending 114km from north to south and 64km from east to west.
Time to Visit :
Mid March and June are best to visit Sikkim. With blooming orchids and rhododendrons look picturesque in the months of April and May.
Weather :
There are three climatic zones in Sikkim: tropical, temperature and alpine zones. The climate remains cold and humid throughout the year for it keeps raining most of the times in the year. Since the place shares proximity with Bay of Bengal, apart from Northern region, there are heavy rains round the year. Pre-monsson starts with April-May and reaches at peak during May and October.
Known For :
Adventure Sports
Sikkim
Sikkim was once an independent Kingdom but now is one of the states in Indian Union. Sikkim stands out in Himalayas as a neck of a dragon. Different people have given different names to this place. Nepalese call it "Sukhim" or "New Home" while Tibetans have named it as "Denzong" or "Valley of Rice". There are Leppchas as well who are actual inhabitants of Sikkim and they call their mother land as "Nye-Mal-Ale" or "Heaven". The state of Sikkim is located in the inner regions of Himalayas and has no open valleys or plains but has varied elevations ranging from 300 to 8583 m above the sea level.
Sikkim offers innumerable adventure sporting options to its visitors. For those of you who wish to make an adventurous voyage, Sikkim will never disappoint you. From trekking, hiking and river rafting, Sikkim ha sit all for you. The mountain slopes of the Eastern Himalayas are breathtaking and the whole aura will enslave you with its bewitching beauty. Twisting and fast turning row boats provide an exciting river rafting experience but if you are a trekker, the slopes and sliding rocks with virgin peaks seem calling. So, now you would also agree that this place is worth making a trip!
Eco-tourism in Sikkim
The
flora
of Sikkim adores its scenic surrounds. About 36% of total land area here is under luxuriant forests. Lush green vegetation including: figs, laurel, sal trees and bamboos can be easily found here. Oak, chestnut, maple, brich alder and magnolia are found in abundance. Apart from these basic flora varieties here, there are other flowers and plant life to lure all. Sikkim is world famous for its Orchids. Cymbidiums, Cattlelyas, Dendrobiums, Hooheriana, F-ar Amoneum etc are some of the variety of orchids found here.
Talking about
fauna
, Sikkim should not be undervalued for its small size for there are as many as 500 species of avi fauna that are found here. 600Species of butterflies and a delightful species of mammals define the plethora of animal life here. Emerald Dove, woodpeckers, cuckoos, kingfishers, and the fairy blue bird are some of the most attractive birds here. You would wonder but at such high altitudes and in freezing cold, you would still find ducks and wild asses. To have an in depth view of the animal life here, you can visit some of the wild life sanctuaries here:
Khangchendzonga National Park
Heaven of prized Musk deer, Snow Leopard and Shy Himalayan Thar, Khangchendzonga National Park is the Biosphere reserve in Sikkim. An appex amongst all high altidute National Parks of India, Khangchendzonga is endowed with one of the most significant eco systems in the world. It nestles a luxuriant flora and galaxy of magnificent fauna of rare varieties. There are the primitive wilderness, natural lakes, tumbling tributary streams, flowered fields and imposing canyon to enthrall you.
Fambong Lho Wildlife Sanctuary
At a distance of 20km from Gangtok, Fambong Lho Wildlife Sanctuary covers an area of 5,200 hectares. The Sanctuary is the home of Himalayan Black Bear, Red Panda, Civet cat and many varieties of birds and butterflies. The Binturong or Bear-Cat (Arctictis binturong) is a rare civet reported from here. Visit here to have in sight of vivacious wildlife of Sikkim.
Singba Rhododendron Sanctuary
Located near Yumthang in North Sikkim, Shingba Rhodendron Sanctuary is home to some of the exquiste species of animals here. The beautiful and highly endangered Spotted Linsang or Tiger-Civet (Prionodon pardicolor) has been reported from here.The fauna here include species like: Serow, Goral, Blood Pheasant, Common Hill, Partrige etc.
Trekking in Sikkim
The rugged terrain and twisted mountain ranges at Sikkim offer fascinating trekking options to its visitors. Mid February-May and October-December are considered as best time to trek in this part of India. Not only adventure, the trekking expeditions here will provide a beautiful gompas, colorful hamlets and bewitching alpine forests.Foreigners have to obtain permits for trekking on most routes in Sikkim. Permits can be obtained from any of the following places: Delhi, Kolkata, Siliguri. Permit restrictions mean that trekkers can only follow well-beaten trails and within a limited period of time
River Rafting in Sikkim
Sikkim is famous for its white water rafting adventure sport. For rafting freaks, Sikkim can be an ultimate splendor. The icy cold waters smash to rugged terrain, offering a great adventure experience. River banks have adjoining deep
forests
and interesting rapids to attract river rafters. There slow as well as fast floats which add to the enjoyment. Makhna-Sirwani-Bardang-Rangpo and Saikip-Jorethang-Majitar-Melli are two famous rafting routes in Sikkim. May-November is the best time to raft in crazy waters of Sikkim.
Reaching Sikkim
Air :
The closest Indian airport is at Bagdogra, 124 km from Gangtok. Taxis for Gangtok (4 hours) are available at the airport. Sikkim Tourism development Corporation also operates daily helicopter flights from Bagdogra airport to Gangtok (20 minutes).
Rail :
The closest railway stations are Siliguri and New Jalpaiguri (121 km) which are connected to Kolkata,New delhi, Guwahati and other major Indian cities.
Road :
Taxis and buses for Gangtok are available at Siliguri.