Location :
In the state of
Uttranchal
in the northern part of India.
Time to Visit :
Any Time of the year.
Weather :
Salubrious and Pleasant.
Known For :
The Rich Biological Resource.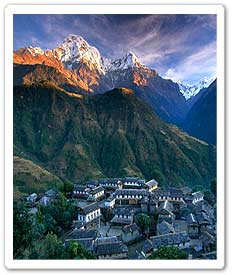 "Garhwal is the most beautiful land in the
mountains
of the Asian subcontinent"
- Dr. T.L. Longstaff, world renowned mountaineer, naturalist and trekker.
Garhwal
Garhwal in the northern state of Uttranchal is an exceptional destination with charming surroundings. The snow-wrapped mountains, luxuriant meadows, high-altitude lakes and impenetrable forests in the hills of Garhwal support exotic wildlife, bird life and plant life. The beautiful creations of nature in the Garhwal region add a bit of splendour to nature's wealth that dwells in its surrounding.
In order to preserve this gift of nature and also to enable the visitors to have a privileged view of the abundant surroundings, the Government has created special areas, National Parks and Sanctuaries, which conserves the ample natural beauty, flora & fauna of Garhwal Uttranchal.
Garhwal Region
Garhwal comprises of the seven districts - Dehradun, Hardwar, Uttarkashi, Chamoli, Pauri, Tehri and Rudraprayag. The region is a unique mix of diverse geographical, demographic and social characteristics, heightened by an intensified sense of religiosity. Garhwal is the supreme haven for the devout, and the home of varied
flora
&
fauna
. Garhwal also has immense scope for adventure sports like river rafting, aero-sports and skiing. There is ample scope for wildlife watching also, making it an essential entry on the itinerary of adventure lovers, pleasure seekers and pilgrims, alike.
The sacred shrines of Badrinath, Kedarnath, Gangotri & Yamunotri are located here and so are the source of the most revered rivers Ganga and Yamuna. The legendary valleys of Garhwal blooming with natural beauty, also offer an unique style of hill temple architecture and fantastic handicrafts.
Eco-tourism in Garhwal
Garhwal Wildlife Resource
Garhwal is flourishing with natural resources, which can be seen especially in its surroundings. Nature is at its very best in the Garhwal Region. The entire region is blooming in abundance with varied vegetations. A large number of nature lovers, environmentalists and tourists descend upon the region every year. But, If you want to behold the beauty of Garhwal in a reserved region then visit these places :
Valley Of Flowers :
Swelling with beautiful, bouncy and brilliant colours, Valley Of Flowers is spread over an area of 87.5 sq km has the largest collection of wild flower species. This hidden treasure of Garhwal had been known to the inhabitants as the Bhyundar valley. The Valley of Flowers inhabits more than 300 species of wild flowers like the Himalayan blue poppy, daisy, dianthus, calendula, white and yellow anemones bloom & swing with life during the monsoons.
In addition to this, it also inhabits - Himalayan black bears, musk deer, brown bears, snow leopards, tahr, bharal, serow and an amazing variety of butterflies. The valley can be visited only during the day and overnight stay is not permitted.
Govind Wildlife Sanctuary :
Govind Wildlife Sanctuary is situated in the beautiful & bewitching environs of the Uttarkashi district. The sanctuary was established in year 1955, covering an area of 953 sq km, holding the mountains like Swarg Rohini, Black Peak and Bandarpunch. Apart from the Sanctuary, the place is a favourite tourist destination, mainly because of the beauty of its snow-capped peaks and glaciers.
The sanctuary boasts of a wide variety of animal species that lives here includes Himalayan black bears, tahr, serow, monal, snow leopard, brown bears trogopan, chir, bharal, musk deer, koklas kaleej pheasants and chukor.
Nanda Devi National Park :
This national park is spread over an area of 630 sq km, just close to the Nanda Devi peak. The Nanda Devi National Park was established in 1980. However, from 1950 onwards the increasing number of treks & climbing expeditions to the area has to some extent affected the virgin character of this place. This national park is distinct mix of flora and fauna. The fauna population comprises of - the brown and Himalayan black bears. Himalayan tahr, snow leopards, serow, and chir pheasants.
Kedarnath Sanctuary :
Sprawling in an area of 967 sq km, Kedarnath Sanctuary in Garhwal was established in the year 1972. Garhwal Himalayas offer a spectacular view of snow-covered mountains, lush valleys and green forests. The Garhwal Himalayas also houses the Char Dhams, namely, Yamnotri, Gangotri, Kedarnath and Badrinath. The sanctuary houses animals like snow leopard, snow cock, tahr, musk deer, leopard and serow can be seen along with many species of birds.
Rajaji National Park :
Encircled by mountains, Dehradun is a perfect retreat with beautiful spots for tourists. Its pleasant climate adds further to its charm and makes it an amazing tourist destination. Established in year 1966, the Rajaji National Park located on the edge of the Dehradunvalley covers an area of about 820 sq km. The wildlife here includes elephant, tiger, panther, bear, chital, sambar, wild bear, kakar, python, monitor lizard and a large variety of avian fauna.
Reaching Garhwal
Rail :
The nearest railhead is at Rishikesh, 170 kilometers from the Valley of Flowers.
Road :
From Rishikesh, there is a good road up to Govindghat. The Garhwal Mandal Vikas Nigam runs conducted tours (duration: 7 days) by luxury coach to Hemkund and the Valley of Flowers.
Foot :
From Govindghat, it is approximately a nine-hour trek to Ghangaria, where one usually halts for the night. From Ghangaria, it is five kilometers along glacial drifts and a gently ascending path, which levels out near the Valley of Flowers. It is a stiff climb to Hemkund, which is also five kilometers away from Ghangaria.