Location :
Dindigul District, Tamil Nadu, Southern India.
Time to Visit :
Although Kodai can be visited throughout the year but it looks picturesque and provide best touring option during the months between April and September.
Weather :
Kodai experiences tropical cool climate with negligible variations throughout the year. The maximum temperature during summers is 19.80 degree centigrade while winters are cooler with a little variation in temperature. The minimum temperature recorded during winter season remains around 17.30 degree centigrade.
Known For :
Bewitching beauty and its lake. The pleasant climate here is a major temptation.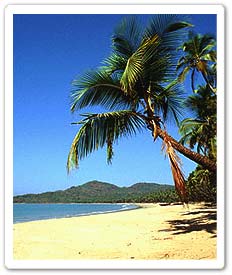 Kodaikanal
Kodai is an ultimate splendor spot for those who love being close to mother nature. They say every bird must sing it's own throat while we say every traveller should find his own way out of variegated and unblemished paths of deep
valleys
and steep
mountains
. And why would a nature eccentric would go on the same path that everybody else follows. While at Kodai, we would recommend you to take all the opposite turns and follow unknown paths. Kodaikanal offers a variety of breathtaking spots and attractions to lure travellers.
At Kodai, you will find a number of virgin spots of attractions, which are untouched and undisturbed by human presence. So if you are also set for such a twisting and turning journey across the green valley, we would make a request to maintain the sanctity of place that you visit. The pleasurable scenic beauty of Kodai will definitely enslave you. The sweet chirping sound of the singing birds combined with the witching beauty offers a great stroll around Kodai.
Eco-tourism in Kodaikanal
Guna Caves
With loose and wobbly rocks, these caves are also known as the Devil's kitchen for there is amusing variety of plants and small insects that are found here. These caves have a bat infested chamber which sets between three boulders which has a mention in a book as well. The scary sights of the cave are loved by teenagers who stand outside the cave and shout their names to hear their scaring echoes.
Kodai lake
The deserted roads of Kodai will take you to Kodaikanal. This 6km long lake is famous for walking strolls and bicycle tours. So you can trip around Kodai without harming the ecological balance by the fumes of Jeeps. The splendid flora with its flowering beauty lures the attention all. If lucky enough, you may spot a rare bird and have a view of birds romancing under the green woods that adorn Kodai.
Berijam Lake
A great spot for those who wish to live secluded, amidst refreshing as well as charming setting of mother nature. Only a few kilometers from Kodai, this calm and soothing lake is a reservoir of witching
fauna
. This star shaped lake is famous for its pure water. You may need to take permit from Forest Department 24hrs in advance.
Waterfalls
There are a few waterfalls that drench the hills at Kodai. When water rushes down from steep slopes and precipitous paths of Kodai, the whole aura looks magnificent. Silver Cascade is located 8km off Kodai and is a witching fall. Bear Shola Falls are other important falls here. These waterfalls are famous for bears which used to come here for water. The third major waterfall of Kodai are Thalaiyar falls. It is the widest waterfall here with a sheer drop from a height of 957ft. These splendid waterfalls are so magnificent that even a maundering trip can let you explore very interesting shrubs and small plants.
EcoActivities in Kodaikanal
Boating
Boating in Kodaikanal can be an enthralling experience. You will have to rush as early as possible to beat the rush at the lake for boating. Moving in water across the variegated scenic surrounds of Kodai is a memorable experience. A brisk tour round the lake can take 45minutes but provides breathtaking views which you will remember for life.
Hiking
There is something highly satisfying about walking from the top of a mountain to plains, and there are many spectacular hikes along well-trodden paths that take you from misty heights to the sweltering heat. Many of these are regular routes taken by barefoot fruit and vegetable vendors who nimbly run up to Kodai on steep trails with heavy loads, leaving the puffing hiker far behind!
Cycling
The deserted roads with flowering beauty are perfect cycling routes here. Cycles are available here on hire. For just Rs.5/- to Rs.10/- can provide an enchanting view of the deepest core of green woods here. The most interesting cycling tour can be with family when you can roam around with your dear ones, breathing fresh air and soothing your eyes with splendid beauty of Kodai. Spotting one of the most beautiful birds while on a cycling tour can be mesmerizing.
Horse-Riding
At most of the hill stations in India, riding on a horse's back is a favorite tourist activity. In 40 to 60 rupees, you can have a small trot arond the lake. If you are very keen, you can hire a horse for yourself and trot around Kodai for a perfect eco-tour. There are a number of bears as well which can scare your horse away. To avoid such a situation, we advise you follow the path that government has decided. There are few soft riding tracks at Kodai which will provide an unforgettable horse riding expedition.
Haunting Waters
Fishing or angling is a leisure time activity that can be undertaken here. You can buy baids from the local fishermen to catch your own fish. Catch Myriads of the look with your hook, using your own secret formula. Apart from Kodai Kanal, there are a few streams and waterfalls that are situated around Kodai which offer great fishing option.
EcoGreen Getaways From Kodaikanal
Palani and Pollachi
Located about 62km from Kodaikanal,these are two small towns which are famous for their oranf\ge grooves and coffee plantations. These towns also house Malaikovil Subrahmanya temple which is a pligrimage destination for Hindus. There are about 659 steps that the devouts step up to reach this temple.
Annamali Park
Better known as Indira Gandhi Wildlife Sanctuary, it is another green getaway from Kodaikanal. Sprawling over an area of 960km, the wildlife sanctuary is a home to animals like tiger, panther, sloth bear, the Nilgiri langur, lion-tailed macaque and wild boar. There are many varieties of bird and the reservoirs support a large population of crocodile. Though most of the park is closed to visitors you are allowed to trek around with a permit and a guide. It is even possible to stay in the forest rest house for a night.
Shopping at Kodaikanal
You may find residents of Kodai going to Madurai to shop for themselves but that does not eliminates Kodai from a shopping place. Pressure cookers, socks and buckets; that is what Kodai's residents buy from Madurai but we are sure that you will not be interested in any of these. Kodai has, rather, unique range of handicrafts and exquisite embroidery that is one of the finest in South India. Wide range of candles and heavily embroidered table cloths can be purchased from here. Kodia is a centre for home made chocolates as well. The cheese factory here exports great quantity of cheese to various countries across the globe. So if you are at Kodai, try buy some cheese for yourself.
Reaching Kodaikanal
By Air :
Visitors can make a trip to Kodaikanal via Madurai Airport and Coimbatore Airport which are situated at a distance of 120km and 175km respectively. There are regular flights from all major metros of India like Delhi, Mumbai, Kolkata, Bangalore etc, which enroute Kodaikanal. There are taxis outside the airport along with private cabs which can be hired to reach Kodaikanal.
By Rail :
There are a number of trains that you can take from all major metropolitan cities of India to reach Kodaikanal. From Chennai, you can take Nagarcoil Express or daily Pandain express while tourists from Delhi can board at Navyug Express that leads to Kodaikanal Road Station.
By Road :
Private coaches and inter state buses run by government, make up and down trip to Kodaikanal. Buses from Kodaikanal Road Station can be hired for a nominal fee of Rs. 30/-. From station, it takes three and a half hour to reach Kodaikanal.
Moving Around in Kodaikanal
Most of the area in Kodaikanal can be covered on foot. There are horses, motorcycles and bicycles which are available on hire. Although Taxis are available but there are no auto-rickshaws. Kodai is such a bewitching place that cycling tours and rides on horses can be most enthralling way of moving around.
Green Hotels in Kodaikanal
Bison Wells
is a green hotel which will provide you a holistic eco tour. There is no electricity, no TV and no AC. For a complete Eco-Tour to this place, you must visit this green hotel set in enchanting surroundings. Just two hours drive from Kodaikanal, the hotel provides a complete natural way of living for its visitors.
Elephant Valley
is a stylish hotel with green cottages and wonderful setting, Elephant Valley is choicest Eco-Resort in Kodaikanal. There are funky cottages to give you a feel of jungle life. It is a great vantage point for spotting elephants.