Classification
| | |
| --- | --- |
| Kingdom : | Animalia |
| Phylum : | Chordata |
| Class: | Mammalia |
| Order : | Carnivora |
| Family : | Felidae |
| Genus : | P.leo |
| Species: | P. l. persica |
| Zoological name : | P. l. persica |
| Found In : | Gir Wildlife Sanctuary and Lion Sanctuary in India |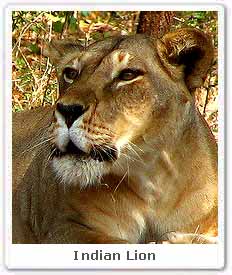 Physical appearance :
Indian Lion is 8 -9 feet long and weighs around 200- 250 kg. It is 2.5 – 2.9 m tall. It has a majestic mane and a big tail tuft. It has large elbows. Total length of their tail ranges from 70 -105 cm.
Presence in India :
Indian Lions are mostly found in North western and central parts of India and are easily spotted in the
Gir Wildlife Sanctuary
and the Lion Sanctuary.
Habitat :
Indian Lion prefers grasslands, shrub and open deciduous forests.
Diet :
Indian Lion is carnivorous and feeds on Nilgai, Wild pig, Chital, Sambar, goats and camels.
Reproduction :
Indian Lions reach the level of sexual maturity in 3- 4 years of age. Their breeding season rests between October to November. The gestation period rests for 31 – 2 months after which the females give birth to 3- 4 cubs.
Conservation status :
Critically endangered. They are being widely killed by the tribal people for meat.
Lifespan :
Longevity of the Indian Lion exceeds to 12 – 16 years. Females have longer lifespan than the males.