Location :
On the western coast of Indian Peninsula, Goa is geographically located between the latitudes of 15deg.48' N to 14deg. 53' N and longitudes between 74deg. 20' E to 73deg.20'E.
Time to Visit :
The best time to visit Goa is during peak monsoon season between Mid July to September or peak winters in the months between November to Mid February.
Weather :
Goa experiences moderate climate with negligible variations throughout the year. May is hottest month of the year while January-February are the coldest. Monsoon shower this bewitching place from Mid July to September.
Known For :
Sandy
Beaches
and scenic beauty.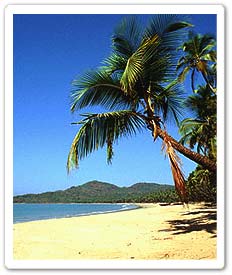 Goa
Spell bounding travellers with its magnificent beauty and crowning beaches, Goa is an ultimate tourist destination in India. There is a famous saying that says life itself is a beach in Goa. These magnificent wast stretches of sea and sand are life line of this union territory of India. An amalgamated form of monuments, century old churches, wildlife and beaches are the true essence of Goan life.
With roars and cheers all around, life is a great celebration for people here. The dew on the palm trees, blue sea, and breeze on the sea shore; Goa seems a perfect destination for nature lovers. The kissed sandy beaches of Goa are the perfect remedy for all ailments. Spend some time here, rejuvenating and healing your inner self.
Eco-tourism in Goa
Ravishing bird life and vivacious animals define the living subsistence in Goa. Very interestingly, about 20 percent of the total land area is under wildlife conservation. Sanguem and Sattari are the wildlife hubs in Goa. For a perfect wildlife refuge, there are innumerable wildlife
eco parks
as well as sanctuaries located in this part of India. Following are some of the most visited wildlife sanctuaries of Goa.
Bhagwan Mahavir Wildlife Sanctuary
Located in Mollem in Sanguem Taluka on the borders of Goa, this wildlife sanctuary has vast area under dense forests ranging from deciduous to evergreen. You can enjoy, much joyous mud trails as you trek through the park. The flora and fauna of this park include: Bison, Giant Spiders, Wild Asparagus, Wild Orchids, Butterflies and innumerable
birds
which inhibit within the scenic surrounds of this wildlife sanctuary. Dudhsagar Waterfall here can be visited to have a splendid view of water gushing down from a height of 300m.
Bondla Wildlife Sanctuary
Bondla Wildlife Sanctuary is located within a close distance from Usgao in Snaguem and Sattari Talukas. Bondla's deciduous forests in house some manicured gardens within their vicinity. The major attraction of this place is its Nature Education Centre which has put a large number of natural exhibits on display. A visit to this centre can be a good orientation to the wildlife in Goa. Elephant rides are available for the visitors to have an insight of vivid animal life here.
Cotigao Wildlife Sanctuary
Cotigao Wildlife Sanctuary is situated in Canacona Taluka in South Eastern Goa. Sprawling over an area of 85.65 sq km, the sanctuary is drained by Talpona River. Adding adventure to your trip are the bemby roads with rough surface. Refreshing greenery and chorus of birds enslave visitors with their scenic beauty. Animals like wild boars, langurs, bison, deer, leopards, wild cat, pangolin and black panther can be spotted here. So pack your bags and get a pair of shoes to have an enthralling trip to this sanctuary. And yes, do not forget to bring your camera for you may need to shoot a few!
Bird Watching in Goa
A keen interest and patience can make visitors have a view of some of the rarest species of birds found in Goa. Dr. Salim Ali Bird Sanctuary is a paradise for bird lovers. You will find as many birds here as you can imagine. The enrapturing species of birds that inhibit here, make its visitors spell bound. Well, if you also wish to have an indepth view of the bird life here, get set with your hat, pair of binoculars good shoes and a camera to shoot!
Goa Beaches
Famous holiday destination of India, Goa is a land of fun florins. Cold breeze, dewy palm leaves and ravishing birds, this is what defines beaches in Goa. The life is diverse here. There is something for everybody here. While the sandy beaches of Goa can be good places to wine and dine around with friends or celebrating a carnival, there are a few beaches with virgin tracks. At beaches of Goa, there is a lot to explore for wildlife eccentrics.
Bogmalo Beach
Bogmalo is one of the most attractive beaches of Goa. Its grainy golden snads and dewy palm leaves offer innumerable options to spend leisure time. You can enjoy watersports and leisurely strolls around the beach. There are few beaches and islets that are situated within tne vicinity of this place. A few beaches here offer great fishing options while others are best suited for adventure sports and enjoying the high as well as low tide.
Velsao Beach
A paradise for peace lovers, this beach provides calm and soothing environment to its visitors. A 10km long stretch of white sand forms this beach.. The calm sea seems relaxing and healing. It is for this reason, the recreational activities here basically deal with yoga and meditation. A perfect place for thinkers as well as those who wish to spend some time in soltitutde, giving a birds eye view to their life which seems as vast as the sea.
Clova Beach
Clova was once a place for an evening stroll for Margao's denizens. Today, it stands as a main tourist beach of South Goa. Clova is much famous for its well retained charm over the years and pleasant aura. You can enjoy Dolphin Spotting expedition with the help of local boatmen. There are a number of small islets that dot this place and can be visited to spot crocodiles.
Morbor Cavelossim Beach
Near Arabian sea, amidst palm grooves, sets the beautiful Morbor beach of Goa. Criss crossing Sal river, here, you can make your journey to some of the virgin spots here. There are few cottages in the scenic surrounds of this beach that provide for a perfect stay. The sandbanks of Morbor houses a few places which makes this place worth making a walk or a bicycle tour.
EcoGreen Getaways From Goa
Spice Plantations
Savio-Verem plantations owned by Shetye families of South Goa are worth half day excursion destinations. Have a view of traditional organic method of farming observed by farmers of Goa. Have a tasteful variety of Goan food served out of earthen pots on banana leaves. You can have a stroll around the spice plantations with a guide to identify and smell some of the Indian Spices.
Baravalem waterfalls
About 2km from small town of Sanuelim, Aravalem Waterfalls stand to bewitch travellers with its eccentricity. Although the waterfalls here throughout the year while it is strongest during monsoon. The temple of Sri Rudreshwar located here is dedicated to Hindu Lkord Shiva and is visited by hordes. Specially during Shivaratri Festival, the temple remains crowded by Hinfu devout.
Dudhsagar Waterfalls
Dudhsagar is the second highest waterfall in India. Being located at the eastern edge of Goa, it comes as a privilege to be able to visit these magnificent waterfalls. These waterfalls are located inside dense jungles of Western Ghats. There is just one small train run by Konkan Railways which halts at these waterfalls. With roars and cheers all around, people are bewitched and enslave by its beauty. In case you are not able to find any train, Jeeps are second best option. Criss crossing many rivers and streams you will reach these waterfalls after an adventurous trip. It would be worth taking a ride to this place if you are at Goa.
Shopping in Goa
The Goan streets are studded with handicrafts that define Goan culture. There are inexhaustible variety of things to buy from local markets of Goa. From decorative belts, bags, purses, coasters and wall hangings, Goan markets have an endless list to offer. If you are a great shopholic then bargain is the keyword here. Most of the articles on display are highly priced. Try bargain upto 50% depending upon the quality of the product. Some of the best shopping areas in Goa include: Anjuna Wednesday Market, Mapusa Friday Market and Margo Market. If not anything else, pick up few selective handicraft items which would make your eco travel to Goa an accomplished tour.
Reaching Goa
By Air :
Flights from Delhi, Mumbai, Bangalore, Chennai, Kochi, Kozhikode, Pune and Agatti ply towards Goa by Indian Airlines, Jet Airways and Air Sahara. Panaji Airport is half an hour drive from main city. Goa Tourism Corporation has its office near the baggage centre on airport from where you can book any hotel in the city at genuine rates. Pre-paid taxi counter is also available at the airport from where you can hire a taxi to your hotel at government rates.
By Rail :
The most important railhead in Goa is
Madgaon
which is also known as Margao. A number of small stations are dot this place. Konkan Railways runs various trains that enroute Goa from distant places like Delhi, Mumbai, Bangalore, Kochi etc. Prepaid taxi booth are situated outside the railway station to book a cab to your hotel. Super fast trains like Rajdhani stops at Madgaon Railway Station only
By Road :
The main National Highways that cross Goa-4A, 17 and 17 A lead to Goa. Other major cities from Panaji are located at a distance of: Mumbai(594km), Belgaum(154km), Bangalore(632km), Pune(471), Ratnagiri(236km). State Transport buses as well as private coaches are available here on to help you make a comfortable journey.
Moving Around in Goa
Kadamba State Corporation runs various public buses within Goa to enable smooth commutation within different tourist destinations in Goa. Journey through these buses may not be fastest but are most affordable as well as comfortable. The fare ranges between Rs. 4 for the first time and Rs.0.35 per subsequent kilometer. There are some shuttle buses as well (Rs.0.55/km) which ply round the clock on all major road routes within Goa.
Motorcycle taxis can also be hired to move around Goa. Unique in its kind, these motorcycles carry single person at a time. Official rates for these single rider motorcycles are Rs.5 for first kilometer and Rs.2 for subsequent kilometers. It is advisable to fix your rate before you start with your ride. If you wish to ride on your own, you can hire a bike for yourself after presenting your driving license.
Black and yellow autos are another commonest mode of transportation here. The official fare is Rs. 8 per km while the actual rates are much higher. It is on your negotiation that you can set your price in advance for your journey. You can ask your hotel people to assist you in knowing genuine fare for a particular place.
Green Hotels in Goa
If you are making an eco-tour to Goa, we can suggest some of the hotels that will provide you with primitive mode of living so that you can experience the life of people who live around woods. There is famous
Jungle Village
at Dudhsagar Waterfalls. This village consists of 110 mud huts and beautiful restaurant called Jungle Cafe. Located in scenic surroundings and proving an a simple life setting, this hotel is a choicest for eco-tourists. Enjoy camping, nature stroll and Jungle Escort at this hotel. Safaris on elephants are available to take a round of wildlife sanctuary here.
Garden of Eden
is yet another green hotel around Dudhsagar area. The hotel has 11 cottages with and without AC. Restaurants and recreational centers are also located inside this green hotel in Goa. You can also enjoy river rafting, corical ride, boating and trip to Ponda Town and Plantations. Walking tours here can be enthralling.