Classification
| | |
| --- | --- |
| Kingdom : | Animalia |
| Phylum : | Chordata |
| Class: | Aves |
| Order : | Galliformes |
| Family : | Phasianidae |
| Genus : | Gallus |
| Species : | G. gallus |
| Zoological name : | Gallus gallus |
| Found In | Corbett National Park, Ramnagar National Park and Kaziranga National Park in India. |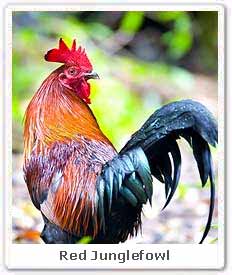 Physical appearance :
Red Junglefowl is 70 cm in length. They have total number of fourteen feathers. Its tail is approximately 28 cm in length. The Its plumage is red, gold, brown, orange, dark maroon, green and gray in colour. There are two ear shaped white patches on the either side of the head. An eclipse plumage is, for male, black long feather across the middle of his back and slender red-orange plumes on the rest of his body. For a female, an eclipse plumage cannot be distinguished, but she does moult.
Presence in India :
Red Junglefowl is widely found in almost all the parts of India. It can also be spotted in the Corbett National Park, Ramnagar National Park and
Kaziranga
National Park in India.
Subspecies :
Gallus gallus gallus (Indochina), Gallus gallus bankiva (Java), Gallus gallus jabouillei (Vietnam), Gallus gallus murghi (India), Gallus gallus spadiceus (Myanmar), Gallus gallus domesticus (domestic chicken)
Habitat :
Red Junglefowl prefers thick secondary forest or wide open areas.
Diet :
Red Jungle fowl is an herbivore and insectivore. It feeds on corn, soybean, worms, grass, grains and insects.
Reproduction :
Red Junglefowl mainly breeds during the summer or spring season. Males mate with the multiple females and the females mate with the multiple males. Males make calls during the breeding season to attract the females. An egg is laid each day and is creamy white in colour. In four to five weeks the chicks are fully feathered. The typical clutch has between five to seven eggs. They reach the level of sexual maturity in five five months at age. Female reach the sexual maturity little latter than the males.
Conservation status :
Classified as Least Concern (LC) on the IUCN Red List 2006.
Lifespan :
The average lifespan of the Red Junglefowl is of approximately 25 years.