Classification
| | |
| --- | --- |
| Kingdom : | Animalia |
| Phylum : | Chordata |
| Class: | Aves |
| Order : | Passeriformes |
| Family : | Muscicapidae |
| Species : | C. malabaricus |
| Zoological name : | Copsychus malabaricus |
| Found In | Corbett National Park, Royal Chitwan National Park, Sundarbans National Park and Bandhavgarh National Park in India. |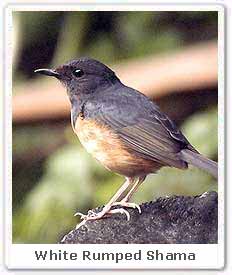 Physical appearance :
White Rumped Shama is a famous song bird. It is medium in size. It is approximately 27 cm long and weighs around 32 grams. It has a round head, long legs and slender bills. The male is shiny dark in colour. Its head, neck and back are black bullish in colour, wings are dull black in colour, legs are pink in colour and the belly is pale orange in colour. It has along tail and broad wings. They have white feathers on the rump. Females are smaller than the males. Females are brown grayish in colour, with the white coloured belly. They have black bills.
Presence in India :
White Rumped Shama is found in almost all the parts of India but are they are mostly found in Northern India. It is also spotted in the Corbett National Park, Royal
Chitwan
National Park, Sunderbans National Park and Bandhavgarh National Park in India.
Habitat :
White Rumped Shama prefers dense jungles and lowlands up to 1500 m.
Diet :
White Rumped Shama is a insectivore. It mainly feeds on insects like grasshoppers, termites and caterpillars. They also favour small intvertebrates, maggots, berries and fruits.
Reproduction :
Incubation lasts for 12 –15 days. Males are generally aggressive during the breeding season. One egg is laid per day. The egg is white in colour with the reddish brown spots. Both males and females take care of the young ones. Young ones are born blind and featherless. They open their eyes in six days. Their feathers are completely developed in eleven days. They start flying in 14 days. They are sexually mature in 3- 4 months. Their nests are cup shaped, made of mud and leaves. Young ones feed on insects and earthworms.
Conservation status :
Least concern. White Rumped Shama is present in large numbers.
Lifespan :
White Rumped Shama generally lives for 10- 15 years.