Classification
| | |
| --- | --- |
| Kingdom : | Animalia |
| Phylum : | Chordata |
| Class: | Mammalia |
| Order : | Artiodactyla |
| Family : | Bovidae |
| Subfamily: | Antilopinae |
| Genus : | Antilope Pallas |
| Species : | A. cervicapra |
| Zoological name : | Antilope cervicapra |
| Found In | Corbett , Bandhavgarh, Velavadar and Kanha National Park in India. |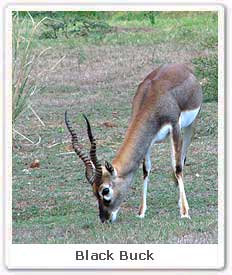 Physical appearance :
Adult male Black Buck have black and white fur. Upper part of the body is black, while the under part and a ring around the eyes is white in colour. Even the fawns have these markings. The males are born lighter in colour, but turns darker at maturity. The females are usually hornless. Males have 24 inches long horns, which are twisted in tight spiral. They are about five feet long and weigh about 85 pounds. Males are dark brown in colour, while the young ones and females are light brown in colour. Black Bucks have the capacity to run 50 miles per hour. It is one of the fastest animal in the world.
Species :
Antelope cervicapra cervicapra, Antelope cervicapra rajputanae, Antelope cervicapra centrali and Antelope cervicapra rupicapra
Presence in India :
Black Buck are commonly found in Punjab, Rajasthan, Haryana, Gujrat, and parts of Central India. They are also easily spotted at the
Corbett
, Bandhavgarh, Velavadar and Kanha National Park in India.
Habitat :
Black Buck live in open plains, grass lands, dry thorn and scrub lands. They live in herds of 20- 30 individuals.
Diet :
Black Buck are herbivorous. They prefer eating Grasses, fruits, pods, flowers, shrubs and herbs.
Reproduction :
Male Black Buck attain sexual maturity in 3 years and the female black buck in approximately 2 years. Females attain sexual maturity much faster than the females. Males hold their nose up and place their horns parallel to their back, to attract the females during the mating season. Gestation period rests for ten months. Mating season of the Black Buck rests from August to October and March to April. Females can give birth twice in the 14 months to one or two young ones at a time. Young ones remain with their mother up to the age of one year. Males remains in sexual excitement throughout the year.
Conservation status :
Black Buck is an highly endangered species. Wildlife parks and zoos are breeding this beautiful species to increase its population. Black buck is one of 26 species of mammals, which have been declared endangered. Poaching and habitat destruction has seriously affected the population of the Black Bucks. It is usually haunted for its skin, flesh and also for sports. It is also haunted for meat. Black Buck also holds the cultural importance in Hinduism and Buddhism. In the 19 th and 20 th century Black Buck was the most haunted animal all over India.
Lifespan :
Few Black Bucks live more than 12 years. Lifespan of the Black Buck is about 16 years.