Classification
| | |
| --- | --- |
| Kingdom : | Animalia |
| Phylum : | Chordata |
| Class: | Mammalia |
| Order : | Carnivora |
| Family : | Viverridae |
| Subfamily : | Paradoxururinae |
| Genus : | Paradoxurus |
| Species : | hermaphroditus |
| Zoological name : | Paradoxurus hermaphroditus |
| Found In : | Ranthambore National Park, Namdhapha National Park and Corbett National Park in India |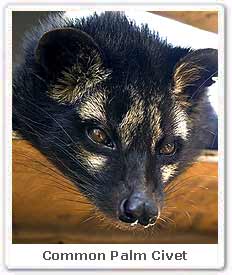 Physical appearance :
Common Palm Civet is 28 inches long and weigh around 10 pounds. It has a long and slender body with short legs. Its coat is brown grayish in colour. It has three rows of black markings on its body. Its claws are not retractile. It has black tipped hairs all over its body. Its tail does not have rings and is as long as the body itself. Total length of its tail is 16 – 26 inches. The limbs are black or dark brown in colour. The secretion from the anal glands is strong and distinctive.
Presence in India :
Common Palm Civet is found in Jammu and Kahmir, east of Gujrat and Southern parts of India. It can also be easily spotted in
Ranthambore
, Namdhapha and Corbett National Park
Habitat :
Common palm Civet prefers temperate and tropical rain forests, agriculture areas and around human habitations.
Diet :
Common Palm Civet is omnivorous. It mostly feeds on mice, mango, chiku, rats, fruits, insets, small vertebrates, berries and rodents.
Reproduction :
Common Palm Civet mature at the age of 11 – 12 months and can reproduce through out the year. Litter size is usually 3 – 4.
Conservation status :
It is listed in scheduled II part II of the Indian wildlife (Protection) Act 1972. The species is listed under CITES Appendix III.
Lifespan :
Longevity of the Common Palm Civet exceeds upto the age of 21 years.