Classification
| | |
| --- | --- |
| Kingdom : | Animalia |
| Phylum : | Chordata |
| Class: | Mammalia |
| Order : | Primates |
| Family : | Cercopithecidae |
| Genus : | Trachypithecus |
| Species : | T.geei |
| Zoological name : | Trachypithecus geei |
| Found In | Manas National Park in India |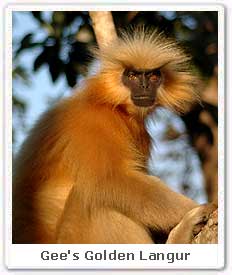 Physical appearance :
Gee's Golden Langur has black face, long tail and the most appealing part are its rich golden creamish hair.
Presence in India :
Gee's Goldden Langur is found in Assam, Guwahati, Bhutan and the foothills of the Himalayas. It can also be spotted in the
Manas National Park
.
Habitat :
Gee's Golden Langur pefers moist evergreen and tropical deciduous forests to live.
Diet :
Gee's Golden Langur is herbivorous and feeds on seeds, leaves, buds, flowers and ripe fruits.
Conservation status :
Endangered species
Lifespan :
Not known