Classification
| | |
| --- | --- |
| Kingdom : | Animalia |
| Phylum : | Chordata |
| Class: | Mammalia |
| Order : | Primates |
| Family : | Cercopithecidae |
| Genus : | Semnopithecus |
| Zoological name : | Semnopitheaus entellus |
| Found In : | Bandhavgarh National Park and Sariska Tiger Reserve in India |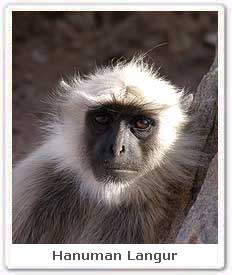 Physical appearance :
Males are 51- 78 cm long and the females are 40 -68 cm long. They are usually gray in colour. They have long tail measuring up to 3 feet. Males weigh around 18 kg and the females weigh around 12 kg. They are basically characterized by black face and black hands. They have long strong limbs.
Species :
Semnopithecus schistaceus, Semnopithecus ajax, Semnopithecus hector, Semnopithecus entellus, Semnopithecus hypoleucos, Semnopithecus dussumieri and Semnopithecus priam.
Presence in India :
Hanuman Langurs are found in almost all the parts of India. They are easily spotted in the
Bandhavgarh National Park
and Sariska Tiger Reserve
Habitat :
Hanuman Langur prefers tropical, dry thorn shrub, pine and alpine forests as well as urban areas.
Diet :
Hanuman Langurs are herbivorous. Their diet is composed of leaves, fruit, buds, flowers and roots.
Reproduction :
The gestation period rests for 168 -200 days after which the females give birth one infant. The infant is weaned after 15 – 20 months. Young ones are dark brown in colour. Breading season varies with location. Female attain the sexual maturity at 3-4 years of age and the males at 4- 5 years of age.
Conservation status :
IUCN classify Hanuman Langur as Lower risk.
Lifespan :
Hanuman Langur lives up to 20 years of age.