Classification
| | |
| --- | --- |
| Kingdom : | Animalia |
| Phylum : | Chordata |
| Class: | Mammalia |
| Order : | Lagomorpha |
| Family : | Leporidae |
| Genus : | Caprolagus |
| Species: | C. hispidus |
| Zoological name : | Caprolagus hispidus |
| Found In : | Manas National Park and Jaldapara Wildlife Sanctuary in India |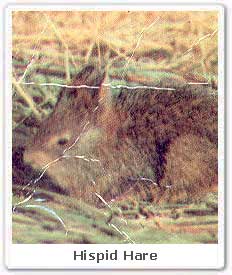 Physical appearance :
Hispid Hare has dark brown hair and weighs around 2.5 kg. It has relatively short ears and small eyes. Their claws are straight and strong. The Hare has large teeth. It has back legs are not larger than the front legs with dark brown tail.
Presence in India :
Hispid Hare is widely found in Uttar Pradesh, Bihar, Madhya Pradesh, West Bengal and Assam. They are also spotted at
Manas National Park
and Jaldapara Wildlife Sanctuary in West Bengal.
Habitat :
Hispid Hare prefers low grassy areas to live.
Diet :
Hispid hare is herbivorous animal and feeds on bark, shoots, grass roots and crops.
Reproduction :
Gestation period rests for 25- 50 days. Litter size is 2-5 , with possibly 2- 9 litters per year. Young ones are usually born between January to March.
Conservation status :
Hispid Hare is classified as endangered species.
Lifespan :
Unknown