Classification
Kingdom :
Animalia
Phylum :
Chordata
Class :
Mammalia
Order :
Pholidota
Family :
Manidae
Genus :
Manis
Species:
M. crassicaudata
Zoological name :
Manis crassicaudata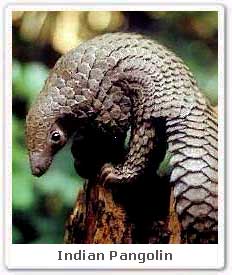 Physical appearance :
Indian Pangolin are 45- 75 cm long. They have small triangular shaped head. Their tongue is 23- 25.5 cm long and its tail is 33 – 45 cm long. They do not have teeth. They have bad listening power and have bad eyesight. Each limb has powerful five claws. They are covered with the horny scales which protect their body. Males are heavier than the females.
Presence in India :
They are found in almost all the parts of India. They are also spotted in the National Parks such as
Corbett
,
Gir
and
Bandavgarh
National Park.
Habitat :
Indian Pangolin prefers tropical rain forests, lower slopes of mountains, sub tropical thorn forests and plains to live.
Diet :
Indian Pangolin is insectivore. It feeds on insects and termites.
Reproduction :
The gestation period rests for 65 -70 days. Females give birth to single offspring. Young ones weigh between 200 -500 gm. New born is carried on mother tail for several weeks. They are weaned at three months of age.
Conservation status :
Indian Pangolin is listed on the IUCN Red list (1996) as Lower Risk/Near Threatened.
Lifespan :
Indian Pangolin live for than 13 years of age.