Classification
| | |
| --- | --- |
| Kingdom : | Plantae |
| Division | Magnoliophyta |
| Class: | Magnoliopsida |
| Order : | Asrerales |
| Family : | Calenduleae |
| Genus : | Calendula |
| Scientific Name : | Calendula officinalis |
| Found In : | Valley of Flowers, Ranthambore National Park |
Other names :
Caltha, Ganda, Gols bloom, Garden Marigold, Gold bloom, Holligold, Marybud, Pot Marigold are the other names used for the Marigold.
Description :
It flowers from July to September. The scented flowers are hermaphrodite (have both male and female organs). It is hardy to zone 6 and is frost tender. The lower leaves are broad and spatula shaped. Upper leaves may be oblong, are smooth at the edges, and are arranged alternately along the stem. Seeds are crescent to horseshoe shaped with the rough exterior. Its branching stem grows to the height of 30- 60 cm.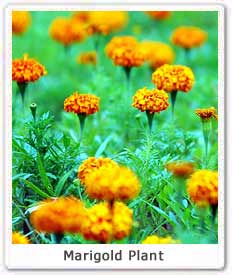 Other Species :
Calendula arvensis, Calendula bicolor, Calendula eckerleinii, Calendula lanzae, Calendula maderensis, Calendula maroccana, Calendula meuselii, Calendula stellata, Calendula suffruticosa, Calendula tripterocarpa, Calendula officinalis are some of the other species of Marigold.
Location :
Marigold is cultivated throughout India. It is widely grown in the Valley of Flowers,
Ranthambore National Park
in India.
Cultivation :
Marigold plant is propagated by the seeds. They are shown during the early spring. Marigold does not need cultivation but the soil should be free from the weeds. The seeds should be shown 2cm apart. Seeds should be planted in the sunny locations. Fertilizers should be added from time to time. They require damp to wet soil for the growth. The seeds are germinated in two to three weeks. It needs full sunlight for its growth.
Medicinal uses :
Marigold is used for stomach upset, ulcers, menstrual period problems, eye infections, inflammations, and for wound healing. It is antiseptic. If the Marigold flower is rubbed on the affected part, it brings relief in pain and swelling caused by a wasp or bee. A lotion made from the flowers is most useful for sprains and wounds and a water distilled from them is good the sore eyes. The infusion of the freshly gathered flowers is beneficial in fever. Marigold flowers are mostly in demand foe children ailment. Externally it is used in the treatment of alopecia. Internally it is used to treat bladder and kidney problems, blood in the urine, uterine bleeding and many more.
Other uses :
Bright yellow and orange Marigold flowers are used to make garlands. They are even used to decorate the religious places. The leaves of its flowers are used as salads. Yellow dye has also been extracted from the flower, by boiling. The burning herb repels insects and flies. Pigments in the Marigold are sometimes extracted and used as the food colouring for humans and livestock.
Cural Importance :
It is offered to the god and Goddess on the Durga Puja.