Classification
| | |
| --- | --- |
| Kingdom : | Plantae |
| Division | Magnoliophyta |
| Class: | Magnoliopsida |
| Order : | Rosales |
| Family : | Rosaceae |
| Subfamily : | Rosoideae |
| Genus : | Rosa l |
| Found In : | Valley of Flowers and Mahim National Park |
Other names :
Dublin Bay, Impatient, Quing, Gul, Gulbahar, Hravart, Roosevelt, Vartan, Arrosa, Aygul, Oklahoma Hulthemosa, Hesperrhodos, Platyrhodon, Banksianae, Carolinae, Pimpinellifoliae , Rosa, Laevigatae, Gymnocarpae are some of the other names of the Rose plant..
Description :
There are several varieties of the Indian Roses which includes white rose, pink rose, maroon rose, red rose, yellow rose and orange rose. It has thorn on its stems. The cane has leaves and budeyes. A leaf consists of stipule, petiole, and leaflets. The leaves are -15 cm long. The leaflets usually have the segrrated margins and few small prickles on the underside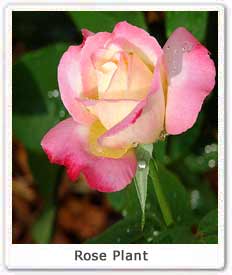 of the stem. Most of the roses are deciduous. The flower has five petals.
Other Species :
Rosa acicularis, Rosa x alba, Rosa pendulina, Rosa anemoniflora, Rosa arkansana, Rosa arvensis, Rosa nutkana, Rosa gigantea, Rosa omeiensis, Rosa oxyacantha, Rosa palutris, Rosa nutkana, Rosa gigantea, Rosa sharardii, Rosa oxyacantha, Rosa palustris Re some of the related species of Rose. There are more than 120 species of Roses pant.
Location :
Roses are found inn almost all the parts of India. They are widely grown in the Valley of Flowers and
Mahim Nature Park
Cultivation methods :
Rose plants are propagated by the seeds, cuttings, layers and by budding. Roses require loamy, well drained soil. Budding is considered as the best method for propagating rose plants. They are planted in the circular pits about 60- 90 cm across and 60 -75 cm deep. Remove all the broken and bruised leaves while planting the plant. Roses require atleast six hours of direct sunlight for the growth. The best time to plant the Rose plants rests between September to October. The rose plant needs cutting from time to time. It requires manures and fertilizers at the time of planting.
Medicinal uses :
Gulkand made by the mixture of Rose petals and white sugar in equal proportion acts as the tonic and laxative. Hips, the fruit of roses are the good source of Vitamin C. Rose petals are used to make skin healthy and glowing. It cures dry and patchy skin. The rose scent has been used in pill making for centuries. Its herbal tea is used in the treatment of cold and cough.
Other uses :
Dried Rose petals called Pankhuri are used during the hot weather for preparing cool drinks. Roses are also used in the preparation of rose water and rose vinegar. Rose hips are sometime eaten. They are used for making herbal tea, jam and jellies. Rose plantss are generally used for beautifying the gardens and walkways. Rose petals are used in cooking, which increases its flavour and make it even more delicious. Relaxing therapies with rose smells are used in candles, lotion, bath oils and perfumes.