Classification
| | |
| --- | --- |
| Kingdom : | Plantae |
| Division | Magnoliophyta |
| Class: | Magnoliopsida |
| Order : | Fabales |
| Family : | Fabaceae |
| Subfamily : | Mimosoideae |
| Genus : | Accacia |
| Species : | A. chundra |
| Scientific Name : | Acacia chundra |
| Found In : | Gir Wildlife Sanctuary, Corbett National Park and Ranthambore National Park |
Other names :
Karangali, Kodalimurunkai, Lal Khair, Lal Khair, Rat Kihiriya, Sundra, Sadra, Karugali, Karamgali, Kachu, Kaggli, Karnali, Khadirah, Red Cutch are some of the other names used for the Khair tree.
Description :
It is the moderate size deciduous tree. It has rough bark which is dark gray brown in colour. It grows up to the height of 15 meter. The leave are 8 -10 cm long. It has short curved stipular spines and rough grayish brown bark. The flowers are pale yellow in colour. They start appearing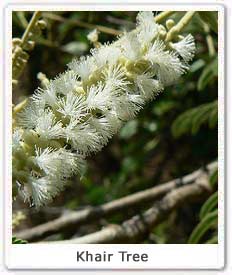 in the month of June -August. Fruits ripen in January to March and remain in the tree for long. The young parts are dark brown to purple in colour. The tree has tough texture from outside.
Other Species :
Acacia sundra, Mimosa sundra are some of the related species of Khair tree.
Location :
It grows throughout India from the Himalayas to the South of India. Khair tree is widely grown in Gir Wildlife Sanctuary, Corbett National Park and
Ranthambore National Park
in India.
Cultivation methods :
It is mainly propagated through the stumps or seeds. The seeds are mostly shown in the month of June. It is planted on sandy and black cotton soil. The seeds germinate in the monsoons. Khair should be sown on mounds at least 61 to 76 cm in height so that the seedlings do not remain submerged in water for a long period; a few weeks' submersion is not fatal. Irrigation is necessary for the plant. Cuttings should be made from the well developed seedlings. The root and shoot should be 23 31 cm and 2.5 to 5.0 cm respectively.
Medicinal uses :
Khair tree is very useful in the dental problems. It gives relief in dry cough. It is also given in stomatis, Anaemia, Leprosy, Bronchitis, Pruritus, Diarrhoea, Polyuria. Its wood contains catechin, catechutanic acid and tannin. It is used externally for ulcers, boils and eruption of the skin. The juice of the fresh bark is given in haemoptysis. It is used to treat painful throat and cough.
Other uses :
The pale yellow mucilaginous gum exudes from the tree yield one of the beast substitutes for true gum arabic. The wood extracts are used for tanning and dying Khaki. Its wood is used as the raw material in the raw industry. Its wood is used in ship building. Its wood is even a food for bees. It is even used as the fire for yagna. The wood of Khair is used in making the plough and the pounding log for rice.
Cultural Importance :
The Khair tree signifies endurance and strength.