Classification
| | |
| --- | --- |
| Kingdom : | Plantae |
| Division | Magnoliophyta |
| Class: | Magnoliopsida |
| Order : | Fabales |
| Family : | Fabaceae |
| Subfamily : | Mimosoideae |
| Genus : | Acacia |
| Species : | A. karroo |
| Scientific Name : | Acacia karoo |
| Found In : | Ranthambore Wildlife Sanctuary |
Other names :
Cape Gum, Cassie, Piquants Blancs, Cassie Piquants Blancs, Cockspur Thorn, Deo-Babool, Doorn Boom, Kaludai, Karroo Thorn, Kikar, Mormati, Pahari Kikar, Pahari Kikar and Udai Vel are the other names used for the Kikar.
Description :
Kikar is the small thorny tree. It grows to the height of 7 – 12 meter. It has yellow round head flowers which are nectar less. The bark is red -brown to blackish and rough. The leaves are light green and fern like up to 120 mm long and 50 mm wide. Flowers are 10- 15 mm in diameter, which grow in cluster between 4 -6 and are sweetly scented.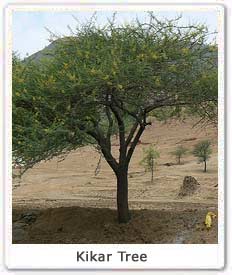 Other Species :
Acacia campbellii, Acacia dekindtiana , Acacia eburnea sensu auct, Acacia horrida sensu auct, Acacia inconflagrabilis, Acacia karoo, Acacia minutifolia, Acacia natalitia, Acacia pseudowightii, Acacia roxburghii, Mimosa eburnea are the other realted species of Kikar.
Location :
It is widely found in the State of Haryana in India. It can also be found in the Ranthambore National Park of India.
Cultivation methods :
It is mainly grown in the cold temperature. It can be grown in any type of soil. It requires water for seed germination.
Medicinal uses :
Other uses :
The bark and seeds are the source of tannin. The various parts of Kikar are useful in Diarrhoea. The leaves and the bark are useful in arresting secretion or bleeding. The pods help remove catarrhal matter and phlegm from the bronchial tubes. The gum allays any irritation of the skin and soothes the inflamed membranes of the pharynx, alimentary canal and genito-urinary organs. Fresh pods of babul tree are effective in sexual disorders like spermatorrhoea, frequent night discharges, loss of viscidity of the semen and premature ejaculation.
Cultural Importance :
It is widely used for fire work and timber. It is introduced and cultivated for erosion and fuel wood. Flowers are used for ornamental purposes, leaves serves as fodder for goats, also used in fencing and hedges. It is honey bee species. Its wood is used for the paper production. Its is also sometimes used as the gum.