Classification
| | |
| --- | --- |
| Kingdom : | Animalia |
| Phylum : | Chordata |
| Class: | Aves |
| Order : | Cuculifomes |
| Family : | Cuculidae |
| Zoological name : | Eudynamys scolopacea |
| Found In | Batla National Park, Corbett National Park, Sultanpur Bird Sanctuary, Pench National Park and Barwala Bird Sanctuary. |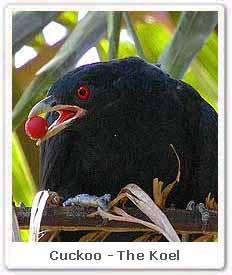 Physical appearance :
Cuckoo – The Koel is 39- 46 cm in length. It is a long and slim birds. It has a long tails, pointed wings and curved bills. The male is glistening black, with yellowish green bill and crimson eyes. They have short wings but long tail. The female is dark brown, with profusely spotted and barred with white. Females have green beak and red eyes. Males and females are distinct in appearance. Tail is dark gray and slightly white in colour. The crown is dark brown and the bill is pale green in colour. Females are slightly smaller than the males.
Presence in India :
They are mostly found in every part of India. They can also be spotted in the Batla National Park,
Corbett
National Park, Sultanpur Bird Sanctuary, Pench National Park and Barwala Bird Sanctuary.
Habitat :
Cuckoo prefers tall forests, suburban areas open moorlands, desert to tropical rainforests. .
Diet :
Cuckoos are carnivorous. They feed on fruits, insects , caterpillars, grasshoppers, lizards, small snakes and mammals. They feed in the canopy of the trees.
Reproduction :
Its breeding season rests from September to February. It is a brood parasite. Cuckoo lay egg in the nest of the other bird. It prefers leafy trees for foraging . A single egg is laid in the host's nest and once hatched the chick forces the other eggs and hatchlings out of the nest. When the chick leaves the nest it roosts in the outer branches of a tree, parents search for food to satisfy the young ones. Young ones resembles the females, but they have dark eyes.
Conservation status :
Least concern. Cuckoo- The Koel is present in large number in India.
Lifespan :
Unknown