Place :
Sultanpur, Haryana, in north India.
Major Attractions :
Migratory Birds, Kingfishers, Blue Bulls
Area Covered :
359 acres.
Ideal Time to Visit the Park :
During the months of December and January.
Nearest Attractions :
Sultanpur Lake, Museums, Library.
Some Major Accesses :
Gurgaon & Delhi.
Things to Know
Where is the Sultanpur National Park
Sultanpur National Park & Bird Sanctuary is located in Gurgaon district of Haryana, 46 km from Delhi and 15 km from Gurgaon on the Gurgaon - Farukh Nagar Road. The Sultanpur National Park is lush with lawns and trees and shrubs and masses of bougainvillea. A good pair of binoculars is a must to clearly see the wildlife from a safe distance, without disturbing them.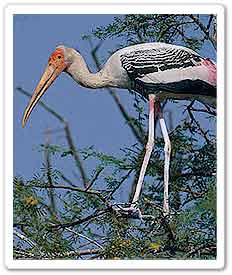 To facilitate bird watching, there are four watch towers (machans) located at different points. In addition there is parking and facilities for toilets and drinking water. The Educational Interpretation Center has been established here to offer proper guidance to the tourist visiting the place.
Important Dates in the Sultanpur National Park
Keeping in view Sultanpur's potential, the park area covering 359 acres was declared a Bird Sanctuary in 1971 and was upgraded to the status of National Park in 1991 by the Haryana Government.
The Ecological System in the Sultanpur Bird Sanctuary
Sultanpur National Park is essentially a bird watcher's place with few trees obscuring the visitor's view of the lake. The birds here can be easily spotted wading, swimming or flying.
The Flora in the Sultanpur Bird Sanctuary
Efforts are being made to improve the vegetation in the area by planting more trees. The vegetation of this park is tropical and dry deciduous and the flora include grasses, dhok, khair, tendu, ber, jamun, acacia, and banyan tree.
The Avifauna in the Sultanpur Bird Sanctuary - Birding at Sutanpur
In 250 species of birds have been recorded in the Sultanpur Bird Sanctuary. Some of them are resident, while others come from distant regions like Siberia, Europe and Afghanistan.
Some of the resident birds are - Common Hoopoe, Paddyfield Pipit, Purple Sunbird, Little Cormorant, Eurasian Thick-knee, Gray Francolin, Black Francolin,
Indian Roller
, White-throated Kingfisher, Spot billed Duck, Painted Stork, White Ibis, Black headed Ibis, Little Egret, Great Egret, Cattle Egret, India Crested Lark, Red vented Bulbul, Rose ringed Parakeet, Red wattled Lapwing, Shikra, Eurasian collared Dove, Red collared Dove, Laughing Dove, Spotted Owlet, Rock Pigeon, Magpie Robin, Greater Coucal, Weaver Bird, Bank Mynah, Common Mynah and Green Bee Eater.
Every year 90 migratory bird species arrive here in search of feeding grounds and to pass the winter. In winter the sanctuary provides a picturesque panorama of migratory birds such as birds like - Ruff, Greater Flamingo, Black winged Stilt, Common Teal, Common Greenshank, Northern Pintail, Yellow Wagtail, White Wagtail, Northern Shoveler, Rosy Pelican, Gadwall, Wood Sandpiper, Spotted Sandpiper, Eurasian Wigeon, Black tailed Godwit, Spotted Redshank, Starling, Bluethroat and Long billed Pipit. In summer about 11 species of migratory birds such as Asian Koel, Black crowned Night Heron, Eurasian Golden Oriole, Comb duck, Blue cheeked Bee Eater, Blue tailed Bee Eater and Cuckoos come here.
The Fauna in the Sultanpur National Park
The wildlife in the park include
blackbuck
,
nilgai
, hog deer,
sambar deer
, wild dog or dhole, caracal, wild cat, hedgehog, mongoose, striped hyena, Indian porcupine, rattle/honey badger, leopard, wild pig, and four horned antelope.
Sultanpur Bird Sanctuary Travel Circuit
Delhi - Sultanpur - Delhi - Agra - Fatehpur Sikri - Bharatpur - Agra - Bandhavgarh - Kanha - Jabalpur
How to Reach Sultanpur National Park
Air :
The nearest airhead is Delhi (46 km).
Rail :
The nearest railhead is Delhi (46 km).
Road :
There are buses and taxis from Delhi (46 km), Gurgaon (15 km) and neighboring centers.