Classification
| | |
| --- | --- |
| Kingdom : | Animalia |
| Phylum : | Chordata |
| Class: | Aves |
| Order : | Ciconiiformes |
| Family : | Ardeidae |
| Genus : | Ardea |
| Species : | A. cinerea |
| Zoological name : | Ardea cinerea |
| Found In | Sunderban National Park, Periyar National Park and Bharatpur Bird Sanctuary in India |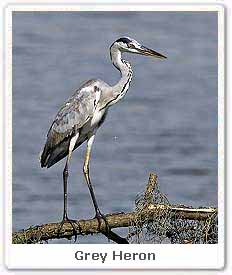 Physical appearance :
Grey Heron is 90 -100 cm long and weigh around 1- 2 kg. It size of its wingspan is 2 m. They have long neck and powerful yellow bills.It has slender S- shaped neck, narrow head and pointed dagger bill. The back and wings are gray in colour, while the underparts are white in colour. They have white head with a wispy crest of long black feathers. They have long brown legs.
Presence in India :
Grey Heron is mostly found in the State of Haryana in India. Grey Heron can also be spotted in the Sunderbans National Park, Periyar National Park and
Bharartpur Bird Sanctuary
in India. It is also known as Kabud, Anjan and Nari.
Subspecies :
There are four other subspecies of Grey Heron namely Ardea cinerea cinerea Linnaeus (Europe, Africa and Westen Asia, Ardea cinerea jouyi Clark (Eastern Asia), Ardea cinerea firasa Hartert (Madagasagar), Ardea cinerea monicae Jouanin & Roux (Mauritania).
Habitat :
Grey Heron prefers wetland marshes, gravel pits, reservoirs, lakes, rivers and estuaries.
Diet :
Grey Heron feeds on fish, amphibians, arthropods(insect, spiders), crustacea (crabs), small mammals (rodents), reptiles (hatchling turtles), and small birds.
Reproduction :
Grey Heron make nests in colonies and wetlands. Their nests are 45 cm wide. Males help the females in building up the nests. Females usually lay 3- 6 eggs, which are blue green in colour. Incubation takes 24- 27 days. The young fledge in seven weeks to three months. Both the males and females take care of the young ones.
Conservation status :
Least concern. Cold weather, habitat destruction and starvation are the main reason for the decline in population of Grey Heron. They are sometimes haunted for food.
Lifespan :
The longevity of the Grey Heron exceeds up to the 25 years of age.