Classification
| | |
| --- | --- |
| Kingdom : | Animalia |
| Phylum : | Chordata |
| Class: | Aves |
| Order : | Coraciiformes |
| Family : | Coraciidae |
| Genus : | Coracias |
| Species : | C. benghalensis |
| Zoological name : | Coracias benghalensis |
| Found In | Corbett National Park, Sultanpur Bird Sanctuary, Rajaji National Park, Muthanga Wildlife Sanctuary, Nagarhole National Park and Kanha National Park in India. |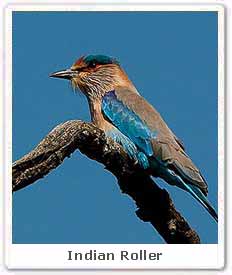 Physical appearance :
Indian Roller is also called Blue Jay. It is 13 inch long and is striking blue in colour. Indian Roller weighs around 80 -100 g. It's eyes and bill are black. It has a large head and short neck. Its crown, lower wings and tail are blue green in colour. The throat and upper breast are purple in colour. The back and abdomen are gray in colour. Males and females are similar in appearance.
Presence in India :
Indian Roller is found in the foot hills of the Himalayas, Southern India and Western India. It can also be spotted in the
Corbett
National Park, Sultanpur Bird Sanctuary, Rajaji National Park, Muthanga Wildlife Sanctuary, Nagarhole National Park and Kanha National Park in India.
Species :
The other two species of Indian Roller include European Roller (Coracias garrulus), and Dollarbird (Eurystomus orientalis)
Habitat :
Indian Roller prefers open ground, cultivated fields, local parks and cities at lower elevation.
Diet :
Indian Roller is omnivorous. It mainly feeds on frogs. It also favours lizards, acorns, grasshoppers, crickets, Butterflies and moths.
Reproduction :
Incubation takes 18 – 20 days. It lays 4- 5 eggs in the month of March or April. . Males perform ornate sexual displays during the mating season. The eggs are white in colour. It lay eggs in hole in the trees. The Young are fledged between 17 -20 days. Both the males and females take care of the young ones.
Conservation status :
Indian Roller is considered as sacred among the Hindus. It has been given the status of State Bird of Karnataka in India. They are sometimes haunted for sports and food.
Lifespan :
The longevity of Indian Roller exceeds up to 17 years of age.