Classification
| | |
| --- | --- |
| Kingdom : | Animalia |
| Phylum : | Chordata |
| Class: | Aves |
| Order : | Gruiformes |
| Family : | Gruidae |
| Genus : | Grus |
| Species : | G. antigone |
| Zoological name : | Grus antigone |
| Found In | Sultanpur Bird Sanctuary, Bharatpur Bird Sanctuary, Madhav National Park, Kerala Bustard Sanctuary and Bhindawas Bird Sanctuary |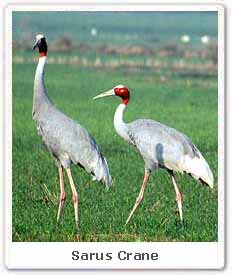 Physical appearance :
Sarus Crane reaches to the height of 200 cm with the wingspan of eight feet and weigh around 7.3 kg. This bird stands as tall as the man. It has long red legs. It's head and upper neck are also red in colour. It is highlighted with the white crown, which is covered with the green skin. It has a dark long pointed bill. Black hair like bristles cover the upper throat and neck. They have gray feathers over the ears. Females are shorter than the males. It is the world's tallest flying bird.
Presence in India :
Sarus Crane is found in the northern, central and north-eastern pars of India. Sultanpur Bird Sanctuary,
Bharatpur Bird Sanctuary
, Madhav National Park, Kerala Bustard Sanctuary and Bhindawas Bird Sanctuary.
Subspecies :
There are three subspecies of Sarus Crane namely Grus antigone antigone, Grus antigone sharpii and Grus antigone gilli
Habitat :
Sarus Crane prefers wetlands, cultivated fields to live.
Diet :
Sarus Crane is omnivorous. It feeds on he diet includes frogs, reptiles, eggs of birds, turtles eggs, invertebrates, butterflies, grasshoppers, tubers of aquatic plants, cereals, potatoes, peas, berries and seeds.
Reproduction :
Sarus Crane reach the level of sexual maturity at 5-6 years of age. It usually breeds during the monsoon season. During the mating season both male and female dance around each other. Incubation takes 27 -35 days. Only two eggs are laid at a time. Nests are made (on the ground) in the fields near the ponds or canals. Both male and females take care of the nests. Chicks fledging takes 55 -65 days. It is the only resident breeding crane in India.
Conservation status :
Sarus Crane is regarded as the threatened species. It is currently listed in the Schedule IV of the Wildlife (Protection) Act, 1972. IUCN (Red List) classifies Sarus Crane as vulnerable. The total population of Sarus Crane approximately lies between 13,500 to 15,500. Loss of wetland areas, egg damage by the humans and heavy use of pesticides has seriously declined the population of Sarus Crane. It is widely haunted by the villagers and is also used for the trade purpose in many countries.
Lifespan :
Longevity of Sarus Crane exceeds up to 15- 20 years in the wild and for 40 years in captivity.