Classification
| | |
| --- | --- |
| Kingdom : | Animalia |
| Phylum : | Chordata |
| Class: | Chordata |
| Order : | Primates |
| Family : | Ceropithecidae |
| Genus : | Macaca |
| Species : | M. radiata |
| Zoological name : | Macaca radiata |
| Found In | Nagarhole National Park, Manas National Park, Periyar National Park and Bandipur National Park in India |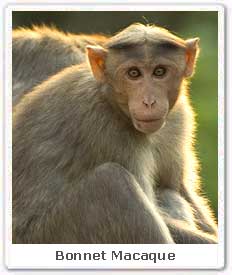 Physical appearance :
Bonnet Macaque is 35 – 60 cm long. They are dusky brown to golden yellow in colour. They have black ears and black lower lips. Males weigh around 5.5 to 9 kg while the females weigh around 3.5 to 4.5 kg. The females usually have red face. The average body mass of this species range from 2.5 to 8 kilograms. They have cheek pouches to carry food in while it forages.
Species :
Macaca radiata radiata and Macaca radiata diluta.
Presence in India :
Bonnet Macaque is found in almost every kind of jungle of India. They are also found in the Nagarhole National Park,
Manas
National Park, Periyar National Park,
Bandipur
National Park, Bannarghatta National Park.
Habitat :
This species is found in both evergreen and wet deciduous forests, and also in urban areas. The bonnet macaque prefers elevations up to 2000 meters.
Diet :
Bonnet Macaque is a frugivorous species. They feeds on ripe fruits, seeds, nuts, flowers, invertebrates, squash, coconuts, peanuts,coffee beans, rice and cereals. This species has cheek pouches to carry food.
Reproduction :
The gestation period lasts for the 165 days. Bonnet macaque gives birth to a single offspring. The young one weigh around 400 g at birth.
Conservation status :
Bonnet Macaque is not considered as the endangered and is widely and abundantly found.
Lifespan :
Longevity of the Bonnet Macaque exceeds to more than the 30 years.