Place :
Karnataka, in the southern part of India.
Major Attractions :
Asian Elephants and Gaurs.
Area Covered :
874.20-sq-kms
Ideal Time to Visit the Park :
Between the months of April and October.
Nearest Attractions :
Mysore & Ooty (80-kms).
Some Major Accesses :
The park is 220 km from Bangalore; 80 km from Mysore; 80 km from Ooty.
Things to Know
Where is the Bandipur National Park ?
Bandipur National Park lies on the halfway down to the Mysore-Ooty highway. India's best-known wildlife reserves - Bandipur National Park is situated within Chamarajanagar district in the southern Indian state of Karnataka, and joins the south Indian states of Tamil Nadu & Kerala.
The Climate in the Bandipur National Park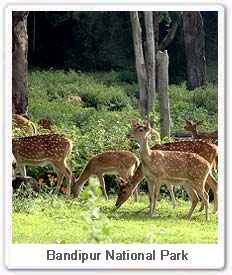 Blessed with a temperate climate and diverse geographical features, the park supports an outstanding variety of flora and fauna, making it an authentic paradise for wildlife.
Important Dates in Bandipur's History
In 1973, Bandipur National Park In Karnataka became one of the first of India's Tiger Reserves and the southernmost of the nine reserves specially formed under Project Tiger. In 1974, intention was declared under the Wildlife Protection Act to notify the Bandipur Wildlife Sanctuary as a National Park.
The Ecological System in Bandipur National Park
The Flora in Bandipur National Park
The scrubby jungles towards the eastern limits of the Bandipur National Park consist of stunted trees, intermixed with bushes and open grassy belts. Towards the northwestern fringes, there is a bit-by-bit shift in the vegetation, from open dry deciduous jungles to tropical mixed deciduous jungles. These diverse habitats of vegetation shelters an enormous diversity of animal life.
The Fauna in Bandipur National Park
With the arrival of pre-monsoon showers in April, Bandipur National Park begins to blossom in all its beauty. The native birds starts their breeding activities. The grasslands with sprouting grass are dominated by elephants and the majestic gaur. Bandipur is a paradise between April to October, for the tourist coming to watch the larger mammals in their natural habitats. During the summer season, when dryness exists over most parts of Bandipur, the backwaters of the Kabini Reservoir in the northwestern part of the park entertains huge gathering of large mammals, especially the
elephant
and the
gaur
. This rare character of Bandipur National Park makes a breathtaking view, and is almost the only one of its kind in Asia.
Bandipur Wildlife Travel Circuit
Nagarhole - Bandipur - Mudumalai - B R Hills
How to Reach the Bandipur National Park ?
Air :
The nearest airport is at Bangalore which is 220 km from Bandipur. Here you will find several means of road transport to reach the park.
Rail :
Mysore is nearest railhead, at a distance of 80-kms. Take a bus or taxi form here to reach the park.
Road :
The park is 220 km from Bangalore; 80 km from Mysore; 80 km from Ooty. Well defined road is available between these cities and the park.