Classification
| | |
| --- | --- |
| Kingdom : | Plantae |
| Subkingdom : | Tracheobionta |
| Division | Magnoliophyta |
| Class: | Magnoliopsida |
| Subclass : | Asteridae |
| Order : | Solanales |
| Family : | Solanaceae |
| Genus : | Withania |
| Species: | W. somnifera |
| Zoological name : | Withania somnifera |
| Found In : | Sariska Tiger Reserve, Rantambore National Park and Eravikulam National Park |
Other names :
Indian Ginseng, Ajagandha, Clustered Wintercherry, Kanaje, Orovale, Samm Al Ferakh, Strychnos, Withania are the other names used for the Aswagandha. It has derived its name from the Sanskrit work meaning 'Horse smell
Description :
Ashwagandha is an evergreen shrub that grows up to the height of 0.5 m to 1.5 m. It is covered by the leaves all round the year. The flowers are hermaphrodite (they have both the male and the female organs) and are greenish yellow in colour. Its fruit and berries are orange -red in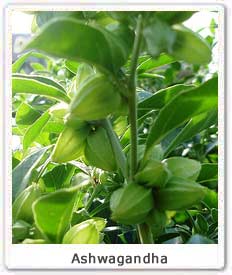 colour. Its roots are whitish brown in colour. Aswagandha is a small woody shrub and flowers all the year round.
Other Species :
Withania coagulens and Withania simonii are the other related species of the Ashwagandha.
Location :
Ashwagandha is grown in all the parts of India. It is grown in India as the crop and can also be grown in the Kitchen garden. One can find this medicinal plant in the Sariska Tiger Reserve,
Ranthambore National Park
and Eravikulam National Park in India. It is also found in various Botanical gardens in India. It is found in the woodland garden, cultivated beds and dappled shade.
Cultivation methods :
Ripe red fruits of the plant are dried in the warm and well ventilated space. After some days the berries are separated, washed and dried up properly. Its seed can be shown in the early spring, they get germinated within two weeks, prefers light sandy, medium loamy and well drained soil. It grows more in the sunlight than in the shade.
Medicinal uses :
Ashwagandha is a very useful herb. It reduces stress, strengthen the immunity and nervous system. It helps in enhancing the mental functioning. It is useful in sexual and general weakness. It gives vitality and vigour and helps in building greater endurance. It is used to cure diseases like rheumatism, leprosy and arthritis. The leaves and the root bark of the pant are abortifacient, adaptogen, antibiotic, aphrodisiac, diuretic, narcotic and tonic. It is also used to tone the uterus after the miscarriage. The fruit and seeds are diuretic. All the parts of the plant are used in the herbal medicines. According to the Ayurveda studies Ashwandha increases health and longevity. It is also sometimes used to treat the memory loss. In cases of cancer Ashwagangha acts as the adjuvant.
Other uses :
Ashwagandha is used as the substitute of the soaps. The leaves are an insect repellent. Aswaganda mixed with the almond oil and rose water is used as the facial toner. Ashwagandha is taken with the milk, with sugar or honey as it promotes deep sleep.