Place :
Kerala, Southern India.
Major Attractions :
Nilgiri Tahr, Gaurs and Tigers.
Area Covered :
97sq. km.
Ideal Time to Visit the Park :
September to February are the best time to visit this park.
Nearest Attractions :
Chinnar Wildlife Sanctuary
Some Major Accesses :
Coimbatore, Munnar.
Things to Know
Where is the Eravikulam Wildlife Sanctuary?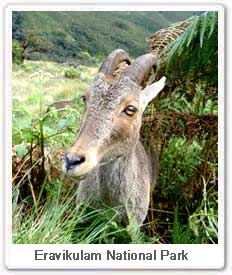 Eravikulam National Park is situated at Rajamallay which sets on Munar-Udumalpet Road in the South Indian state of Kerala. The national park is situated at the higher altitudes of Western Ghats. Geographically, it is located at 9 deg. 40 min latitude and 77 deg. 20 min longitudes.
The Climate in the Eravikulam Wildlife Sanctuary
This region of Kerala is drenched with South West Monsoons. Although the park receives ample rainfall throughout the year, the months of June, July and August are the monsoon months. This is the time when this region receives maximum rainfall. The months of April and May are hottest here. From September to December, Eravikulam receives little rain with clear weather. Because of this, one can visit Eravikulam best in the months between September and February.
Important Dates in the Eravikulam's History
Eravikulam-Rajamallay was declared a wildlife sanctuary in 1975. This sanctuary attained the status of a National Park within three years of its establishment in 1978. The main purpose of establishing this park was to protect and conserve Nilgiri Tahr.
The Ecological System in the Eravikulam Wildlife Sanctuary
The Flora in Eravikulam Wildlife Sanctuary
The grasslands of Eravikulam are called "climax" grasslands, by the scientists. It so believed because of the fact that these grasslands have achieved ultimate state of splendor. The scenic beauty has evolved to a perfect state of harmony. Within these grasslands, there are patches sholas which means forest. One can find diverse variety of orchids and other flowers, adorning this place. These forests are blessed with leeches to linger the travellers. Even a maundering trip to these deep green forests can let one explore a lot.
The Fauna in the Eravikulam Wildlife Sanctuary
At Eravikulam you will find as many as 26 species of mammals. The most prominent of all are Nilgiri Tahr, Elephants, Langur, Marten, Small-clawes Otter, Tigers and
Leopards
. The grass lands on the hills can make you spot avid variety of wildlife here. Some of the endangered species of animals like Varai Aadu (hill goat) can also be spotted here. Eravikulam is endemic to Westren Ghats and is a abode for some of the red listed threatened mammals in India.
The Avi-fauna in the Eravikulam Wildlife Sanctuary
Eravikulam has great flowering beauty which makes it a perfect dwelling ground for the birds. There are about 138 estimated number of birds that inhibit here. Some of the most popular birds that can be spotted here include: Nilgiru Wood Pegion, Kerala Laughing Thrush and White Bellied Shortwing. You can fine over a hundred species of butterflies and 19 species of amphibians. Twenty species of orchids and nine species of balsam can also be found here.
Walking Tours in the Eravikulam Wildlife Sanctuary
Walking Tour
Eravikulam can be best visited on foot as you can make stoppages at regular intervals and explore the deep woods.
Eravikulam National Park Travel Circuit
Munnar - Eravikulam - Periyar - Kumarakom - Kochi
How to Reach the Eravikulam Wildlife Sanctuary?
Air :
Cochin is the nearest airport which is located at a distance of 135km from here. Private coaches and buses can be hired from Cochin to reach Eravikulam.
Rail :
Munnar is the nearest railhead town from Eravikulam, located at a distance of 13km from here. You can reach Eravikulam from Munnar by hiring a coach or a cab.
Road :
Private coaches and cabs are available on hire to reach Eravikulam from different parts of Kerala.