Classification
| | |
| --- | --- |
| Kingdom : | Plantae |
| Division | Magnoliophyta |
| Class: | Magnoliopsida |
| Order : | Fabales |
| Family : | Fabaceae |
| Subfamily : | Faboideae |
| Genus : | Dalbergia |
| Species : | D. sissoo |
| Scientific Name : | Dalbergia sissoo |
| Found In : | Periyar Wildlife Sanctuary, Bandipur National Park and Sariska Tiger Reserve |
Other names :
aguru (Sanskrit), Bombay Rosewood (English), dalbergia (Arabic), nakku katti (Tamil Nadu), ostindisches Rosenholz, pradu-khaek, pradu-khaek, shinshapa (Sanskrit), shisham (Hindi), shishu (Bengali), shisu (Bengali), sisam (Hindi), sisham (Nepali), sissai (Hindi), sissau (Nepali), sisso (English), sisso (Tamil), sissoo (English), sissoo (Arabic), sissoo (Hindi), sissu (Hindi), sisu (Bengali), sisu (Spanish), sisuitti (Tamil), skuva, sonoswaseso (Javanese), tali, yette (Tamil) are some of the other names used for the Indian Rosewood.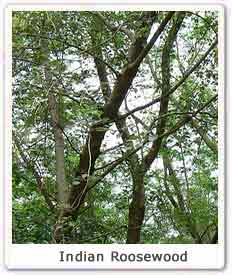 Description :
Indian Rosewwod is a erect deciduous tree. It grows to the height of 25 meter and 2-3 meter in diameter. It has leathery leaves which are up to 15 cm long. The flowers are whitish pink in colour. Its crown is oval in shape. The fruit is brown and pod like in shape. The fruit is dry and hard. The sapwood is white to pale brown in colour and the heartwood is golden to dark brown in colour.
Other Species :
dalbergia nigra, dalbergia latifolia are the other known species of the Indian Rosewood.
Location :
Indian Rosewood mainly grows on the banks of the river below 900 meter elevation. It is widely found in the Indian Stat of Haryana. It can also be found in the Periyar National Park,
Bandipur National Park
and Sariska Tiger Reserve in India.
Cultivation methods :
Indian Rosewood is mostly propagated through the root suckers and seeds. It requires fertile well drained soil. Seeds are soaked in water for 48 hours before sowing. Seeds are germinated in three weeks. Young Rosewood needs full sunlight. It requires dry to wet soil. Young plants are well watered until established. Flowers occur from October to February
Medicinal uses :
Indian Rosewood holds many medicinal properties. Rosewood oil stimulates new cell growth, regenerate tissues, and heps minimize lines and wrinkles. It helps balance both dry and oily skin. It can prove useful against acne.
Other uses :
It is the important fuel wood and is also used for shade and shelter. Its wood is used for the making furniture, doors, windows, ship floors, plywood, skis, musical instruments, carvings etc. Because of durability Rosewood is often used in the martial art weaponary, particulary as the shaft of spears and in the gun staves. Its oil is used in Perfumes.
Cultural importance :
Many people grow Rosewood because they believe harvesting the wood denudes the rain forests.