Indian Tulip Tree
Classification
| | |
| --- | --- |
| Kingdom : | Plantae |
| Division | Magnoliophyta |
| Class: | Magnoliopsida |
| Order : | Malvales |
| Family : | Malvaceae |
| Genus : | Thespesia |
| Species : | T. populnea |
| Scientific Name : | Thespesia populnea |
| Found In : | Eravikulam National Park |
Other names :
Portia tree, Pacific Rosewood, Suriya (Sinhala), Poovarasu, Plaksa, Sea side Mahoe are the other names used for the Indian Tulip tree. It is also known as the Scarlet Bell tree, Flame of the forest and Fountain tree.
Description :
Indian Tulip Tree attains the height of 40 feet or more. It is a very large tree. It has heart shaped leaves and the cup shaped flowers. It is a fast growing, evergreen tree. It is very bushy when it is young but thins out with the age. Each flower is white – yellow in colour and has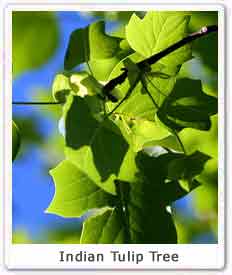 maroon eye that ages to purple. The flowers bloom year round and lasts for three days. The major branches of the tree grow straight, with the thick corrugated bark. They are Its barks are stringy and light grey in colour. Its fruit is the round capsule which is about one inch across. Its seeds are greyish brown in colour.
Other Species :
Hibiscus tilliaceus, H. pernambucensis , H. elatus are the other related species of the Indian Tulip Tree.
Location :
Indian Tulip tree is found in the lower dry forests to the wet forests. Deep, rich, well-drained soils of forest coves and lower mountain slopes. It is widely grown in the Eravikulam National Park in India..
Cultivation methods :
Indian Tulip trees are easily propagated through the seeds. It requires a deep rich soil for its cultivation. It must be taken care that the inner part of the seed is not destroyed. The seeds are germinated within 14 28 days. Tulip plant can also be propagated with the cuttings. It is also grown in the pots. It sheds its leaves in the month of February. New leaves appear in the month of April and March.
Medicinal uses :
The bitter inner bark of the Indian Tulip tree is used as diuretic and stimulant. Its raw green bark is also chewed as an aphrodisaic. Its tea is used in the treatment of indigestion, dysentery, rheumatism, coughs and fevers. In India its bark was used to treat the skin diseases, and haemorrhoids. Its leaves are applied to the inflamed and swollen joints. It is also used in the treatment of ringworm. Its roots are used as the tonic.
Other uses :
The fruits, flowers and young leaves are edible. The tough fibrous bark is made into rope in several areas. The bark is also used to caulk boat. Even the cork is made from the inner bark. The yellow dye is obtained from its fruits and flowers and the red one from the bark. Its parts are also used in the making of gum, oil and tannin. Its timber is also used to make the papers. Its wood is used to make bowls, paddles and other carved objects.