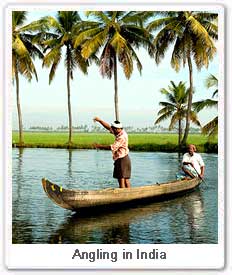 Locations :
Major rivers like the
Ganga
and its tributaries, the Yamuna, the Brahmaputra, the Mahanadi, the Krishna and the Kaveri.
Best Time :
Any time of the year.
Tips :
Bring lots of patience with yourself, as it is the most important thing you should have during fishing & angling.
Angling In India
The Indian
Himalayas
are an ideal for sport fishing. Anglers from all over the world come to the Indian rivers to try and hook the Himalayan Rainbow trout or the mighty Mahaseer. Good fishing is possible in the north of the country on the Ganga, Kali rivers for mahseer and on the Tirthan, Tons and Sainj rivers for trout. In the east of the country, rivers like the Kameng, Teesta, Brahmaputra etc. provide excellent angling opportunities.
India with its dozens of rivers and thousands of streams, offers vast opportunities for fishing and angling. Whether you're a first time angler or an expert angler, - India's waters, both fresh and salt, can be a pleasant surprise for you. The country has an estimated 50,000 km of waters- rivers, streams, and lakes included- and an additional 3,000 km of coastline. There's definitely a lot of scope for some satisfying angling in India. Major rivers like the Ganga and its tributaries, the Yamuna, the Brahmaputra, the Mahanadi, the Krishna and the
Kaveri
are home to a wide spectrum of fish, including mahseer, rohu, katli, and trout. The coastal waters caressing the shorelines of India harbour marine fish like - mackerel, marlin and sea bass.
In India, most major cities lie along the rivers, as a result finding a fishing zone is generally not a problem. In addition to this, most states have well-organised Departments of Fisheries, where special breeding areas assure that there's always a gene pool of local and exotic fish. Fish sanctuaries and breeding grounds in Jammu and Kashmir, Himachal Pradesh, Uttar Pradesh and other states through which major rivers flow, conserve a vast stock of fish which are specially bred for re-stocking rivers.
Licenses and permits
Fishing licenses are mandatory for all anglers. Go to the concerned official before you throw your line into the water, or else you will be penalised for not having the fishing license. In most cases, fishing licenses are not issued during the monsoon (when most fish species breed); in addition, most licenses are issued for only a specified stretch of water. Furthermore, there are conditions that all fish caught must be released into the water, and anglers are restricted to catch a specified number of fish per day. you can get the license from the Fisheries Department of the state where you have come for angling.
Foreigners, who are head towards the Lakshadweep or Andaman & Nicobar Islands for fishing & angling, will need a permit from the Ministry of Home Affairs in New Delhi - or an authorised official in the state. The same applies to certain areas of Himachal Pradesh, Jammu and Kashmir and other border states.
Things to bring
The basic fishing equipment required includes rods, lines, hooks, reel, flies, spinners, spoons and bait- in the form of worms, paste or other lure. Light, waterproof clothing- brown or green in colour- is essential, as are waterproof shoes or light sandals which can easily be slipped off to drain out sand or water. Sunscreen, a light hat and dark glasses are necessary, and during the winter make sure you're well clad with sufficient woollens and a macintosh.
Some travel agencies and tour operators in India provides everything from equipment and experienced guides to boarding, lodging and transportation to the anglers.
Some Best Zones for Anglers
The main river expanse suitable for angling are in the lower Himalayas, the Satpuras, and the Aravalis, all of which have rivers teeming with a broad range of fishes. India's rivers acquire about 31 species of freshwater fish which are of interest to anglers; these include trout (brown and rainbow trout, both introduced species); murrel, catfish and cyprinids.
NOTE :
For further information and assistance you can contact the local wildlife, forests or fisheries department.