Classification
| | |
| --- | --- |
| Kingdom : | Animalia |
| Phylum : | Chordata |
| Class: | Aves |
| Order : | Anseriformes |
| Family : | Anatidae |
| Genus : | Anas |
| Species : | A. querquedula |
| Zoological name : | Anas querquedula |
| Found In | RanthamboreNational Park and Bharatpur Bird Sanctuary in India. |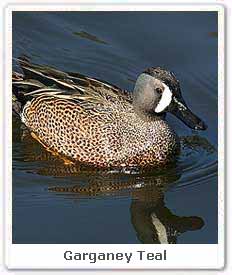 Physical appearance :
Garganey Teal is 35 cm long and weigh around 316- 502 g. It has a white stripe above the eye that run down to the neck. It's underparts are gray in colour. Garganey Teal have a head with the blackish brown top portion and brownish red on the rest of the head. It has a black chin. The breast and back are brown in colour. The bill is dark gray and the legs are blue- gray. It is a small dabbling duck.
Presence in India :
It is well distributed through out India. It can easily be spotted in the
Ranthambore National Park
and Bharatpur Bird Sanctuary in India.
Habitat :
Garganey Teal prefers shallow marshes and steppe lakes.
Diet :
Garganey feeds on aquatic plants, seeds and invertebrates.
Reproduction :
Garganey Teal attain sexual maturity at 1-2 years of age. It lays 7- 8 eggs. Incubation period is of 25- 26 days and fledging duration is of 6 weeks. Males help the females in guarding the chicks. They make the nest on the ground. The young ones fledge at seven weeks of age.
Conservation status :
Habitat loss, haunting and food poising has seriously declined the population of Garganey Teal.
Lifespan :
The average lifespan of the Garganey Teal is approximately 20- 30 years.