Classification
| | |
| --- | --- |
| Kingdom : | Animalia |
| Phylum : | Chordata |
| Class: | Aves |
| Order : | Galliformes |
| Family : | Phasianidae |
| Genus : | Gallus |
| Species : | G. sonneratii |
| Zoological name : | Gallus sonneratii |
| Found In | Bandipur National Park, Sultanpur National Park, Thattekad Bird Sanctary and Bharatpur Bird Sanctuary in India |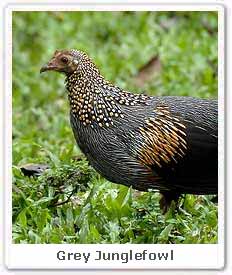 Physical appearance :
Male is 75 cm long and the female is 38 cm long. The comb of Grey Jungle Fowl is deep red in colour. They have long neck, which is gray blackish in colour. Their feathers are gray black in colour with white stripes.
Presence in India :
Grey Jungle Fowl is widely found in the southern and western parts of India. Grey Jungle Fowl can also be found in the Bandipur National Park, Sultanpur National Park, Thattekad Bird Sanctary and
Bharatpur
Bird Sanctuary.
Habitat :
Natural habitat of Grey Jungle Fowl is forest undergrowth and bamboo thickest.
Diet :
Grey Jungle Fowl feeds on mall dog kibble, seasonal pulp seed fruits like pomegranate, pumpkin and hot peppers.
Reproduction :
The Grey Jungle Fowl reaches the level of sexual maturity at approximately two years of age. It usually breeds between the month of March -July. Eggs incubate for 21 days. The average clutch size is between 4-6. Males can breed to more than one hen per year. Males becomes very noisy during the breeding season.
Conservation status :
Least concern
Lifespan :
Unknown