Kollam Backwaters in
Kerala
, India, is one of the exciting Kerala backwater destination. It is located at the distance of 74 kilometer north west of Thiruvanathapuram. It is the gateway to the backwaters of Kerala. Kollam was the important erstwhile trading canter on the Malabar coast in the ancient times. In the earlier days traders from far away places such as the Phoenicia, Arabia, Greece, Rome and China used to visit Kollam. Portuguese also established a trading port here. Later on the Britishers set up the factories at Kollam to export spices, sandalwood, ivory and coir. Kollam was formerly known as Quilon.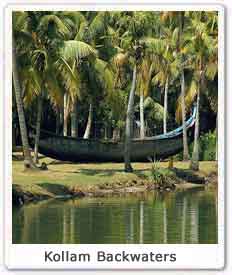 Tourists activities :
Kollam Backwater Cruise :
Tourists can go for the backwater cruise that starts at Kollam and its journey at the destination called Alappuzha. It is the longest cruise in Kerala.
Lotus
, water lilies, water birds, pristine Kerala villages and Chinese fishing nets are the main attractions of the cruise.
Nature walk :
Being at Kollam tourists can indulge in the nature walk enjoying its immense natural beauty. It is the ideal way to explore the exotic life of Kerala. It gives you the opportunity to enchant with its people and learn about their lifestyle.
Tourists attractions :
Ashtamudi Lake :
Major attractions of the Kollam is the Ashtamudi Lake. It is known as the Ashtamudi Lake because its eight channels are the gateway to the backwaters. The total length of the lake is around 16 kms. It is one of the largest wetland eco systems in state of Kerala.
Thangassery Light house :
Another major attraction of the Kollam backwater is the Thangassery Light house, which is 144 feet high and was built in the year 1902. Light house remains open to the tourists from 15:30pm to 17:30pm.
Ananda Valleeswaram Temple :
Ananda Valleeswaram Temple is an important pilgrimage center in Kerala. You may find several churches and mosques around Kollam which are worth visiting.
Ochira in Kerala :
Ochira is one of the most important place of worship in Kerala. Is is some what different from other pilgrim places, which neither has a structure in house an idol nor it does have an idol to worship. It does not even have the pandits to perform the rituals. Tourists from all around the globe come to visit this unique temple. It is also known by the name of the Dakshina Kashi. Ochira is dedicated to the one supreme power known as Parabrahma. The temple is known for the popular annual festival called Ochira Kali. The festival falls in the month of June and lasts for two days.