Location of Khandagiri caves :
Khandagiri caves are located at the distance of six kilometers from Bhubaneshwar. The caves of Khandagiri are located at the height of the 118 feet. It is situated on the hill rock slope facing the Udayagiri caves. Khandagiri means the 'broken hill' and the Udayagiri means 'hill of the sunrise'.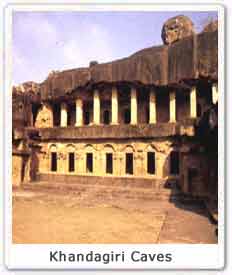 Caves of Khandagiri :
Khandagiri houses the total of 15 caves. Each cave of Khandagiri is beautifully designed with the paintings and motifs. The caves of Khandagiri can be reached either by climbing the flight of steps leading from the road, up from the main entrance of the Udayagiri caves or by cutting directly across from the Hathi Gumpha, via the steps that drop down from the cave 17. Akshya Ganga, Gupta Ganga, Shyam Kund and Radha kund are some of the most famous caves of the Khandagiri. The most interesting among them all is the 24 Tirthankaras Cave, which contains the carvings of the twenty four Apostles of Jainism on the monolithic stones.
Visit Cave 1 and 2 popularly known as the parrot cave because of the because of the carvings of the birds on the doorway arches. They are also locally known as the Tatowa cave. Explore the Ananta Cave (snake cave), which contains the carvings of the elephants, womens and the birds carrying flowers. The Anantha Gumpha also contains the decoration in the shape of the serpent at the entrance. It is the most impressive cave among all the other caves of the Khandagiri. The best place to visit at Khandagiri is the modern Jain temple at the top of the hill, dedicated to the, Mahavira, the 24th tirthankara (Jain teacher).
History :
The caves of Khandagiri are famous as the popular Jain pilgrimage center. It is believed that these caves in the ancient times were inhabited by the number of Jain scholars. They are believed to be over 2000 years old. These caves presents the finest example of the Jain and Buddhist occupation.
Excursion from Khandagiri caves :
Apart from the Khandagiri caves you can also explore the caves of Udayagiri, lying next to them. The caves of Udayagiri are equally interesting as the caves of the Khandagiri. You can venture on the top of the hill admiring the surrounding beauty. You may come across several monkeys on the hills. You can feed them with the fruits and peanuts available at the outside stalls.
Entry Fee :
The entry fee to the caves is around Rs 100. The cave remains open from 8 am to 6 pm. The best time to visit these caves is after the month of March. Wear light summer clothes during the summers and light woolens during the winters.