Location :
Nellitheertha Cave is located in Nellitheertha, in the state of Karnataka in India. The cave of Nellitheertha is about 200 meters long. The cave has the huge entrance but one needs to reach the interior of the cave on knees only. The cave is closed for the period of six month between (October to April) in a year. The visit to the cave is considered as highly spiritual and sacred by the pilgrims coming to this place.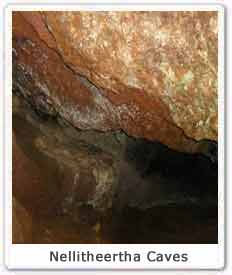 History :
The cave temple of Nellitheertha dates back to year 1487. The cave of Nellitheertha is even believed to be used by the Sage Jabali to perform penance to appease Lord Durga Parameshwari. He wants that the Lord Durga should kill the demon Arunsura. On his sacrifices Lord Durga killed Arunsura at Kateel, which is the famous temple town near Nellitheertha cave.
Interior of the cave :
It is believed that inside the Nellitheertha cave the drops of water in the shape of Gooseberries (amla) keep on dripping down constantly. The lake inside the cave is made up of these drops only. The most striking feature of the lake is the natural Shiva Lingam. The lake is full of exotic wildlife, you may find here plenty of animals. The most common among them are the snakes, which are found in all varieties. Apart from that you may find here scorpions, porcupines and thousands of bats. Tourists should keep in the mind that they do not disturb these animals and maintain the at most silence. There is the place inside the cave where the Sage Jabali performed his Tapas (penance).
Significance of the Nellitheertha Cave :
Nellitheertha Cave is one of the holy destination in the state of Karnataka, visited by hundred of tourists every year. The Cave has the pond which is considered as extremely sacred and the pilgrims gather here to take the holy bath in its water. The name Nellitheertha is made up of two words – Nelli means amla and theertha means the holy water. As the cave remains open to the tourists for the period of six months only, rest of the six months in the cave are meant for the Rishis and Gods to perform their tasks. It is the rejuvenation period for the cave, when its water gets freshen up and the animals inside the cave enjoy their life without any disturbance. It is believed that the mud inside the cave has the great healing powers. On the visit to the cave the devotees carry the mud from here to their homes and keep it for years.