Location of Pataleshwar Cave :
Pataleshwar is the rock cut cave temples, which are located in the heart of the city of Pune in Maharashtra India. This heritage site flows across the river situated in the Shivaji nagar in Jungli Maharaj Road.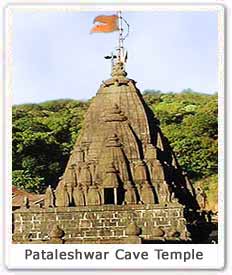 History :
Pataleshwar cave temple was carved out in the 8th century. The Pataleshwar cave temple was dedicated to the Lord Pataleshwar (God of Underworld). The most striking feature are cave temple is the unique sound of the bells.
Architecture :
Pataleshwar cave temple provides the perfect example rock cut architecture. It has been hewn out from the single rock. The architecture and designs of the temple cave are quite similar to that of the Elephanta caves. The main attraction of the cave are the shrine of the Lord Shiva and Nandi bull. The entire temple is the treasure house of the gigantic pillars. The temple also has the seating arrangements for the tourists along with the small rooms. Most of the rocks in the cave dates back to the 700 -800 AD. You may few ornate carvings on the black rock, which are simply amazing. The cave temple also houses the museum, which is listed in the Guinness Book of Records. The main attraction of the museum is the grain of rice, that has around 5,000 characters inscribed on it.
Best time to visit :
Pune enjoys the pleasant and equable climate through out the year. But the summers can be little harsh so the best time to visit the cave lies between the month of October to March. The cave remains open to the tourists from the morning 8 am to the evening 5 : 30 pm. Sightseeing around Pataleshwar temple : On the excursion trip from the Pataleshwar cave you can make a visit to the Jangali Maharajah temple dedicated to the Hindu ascetic, who died here in 1818.
Special Instructions :
Tourists are requested to wear the decent clothes while visiting the temple, as the people are still conserve in the area and the place is sacred among the Hindus. Tourists are recommended not to spoil the environment by throwing the water bottles and other waste here and there.