Location of Undavalli Caves :
Undavalli Caves lies in the Undavalli village in the Guntur district of Andhra Pradesh. From the city of Vijayawada the caves are located at the distance of 8 km and 32 km from Guntur. These caves are located at the top of the high hills facing the Krishna River.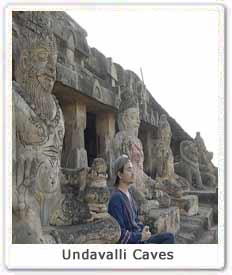 History :
These four stories caves are said to be found in the 7th century. They are associated with the Vishnukundin Kings of AD 420 – 620. These exotic caves of Undavalli were dedicated to the Anantapadmanabha and Narisimhaswami. According to the historical evidences Madhava Reddy who ruled this region as the subordinate under the Reddies of Kondaveedu gifted the caves to the temple of Anantha Swamy. It is also believed that these caves were used by the Buddhist monks as the rest houses. Some of the other shrines in the cave are dedicated to the Trimurti, Brahma and Shiva. These ancient Hindu cave temples holds the great importance among the Hindus in India.
Interior of the Undavalli Cave :
The caves of Undavalli provides the finest example of the rock cut architecture of the Buddhists in India. The most striking feature of the Undavalli cave is the 5 meter long statue of the Lord Buddha in the reclining position. Another major attraction of the cave is the sculpture of the Lord Vishnu, which is made out of the single granite block.
Clothing and Best Time to visit :
As the climate is warm in the summers tourists are recommended to wear the light cotton clothes to escape from the summer heat. Do not forget to carry the water bottles along with yourself. You may take help from the tour guide in order to fully explore the area and to know about its historical importance. In winters the temperature is cool and pleasant. The ideal time to plan out the holiday trip to the Undavalli caves lies between the month of October and February.
Nature Walk :
Besides admiring the architectural beauty of the Undavalli caves tourists can explore the nearby area around the Undavalli caves. When you reach at the top of the cave you get the finest view of the agricultural environment. You can kill time picking alongside the Krishna river. You can also take the leisure walk along the river and enchant with the local people. You may find children playing in the fields barefooted and their mothers working hard in the fields. Tourists can even take the boat ride in the river enjoying the surrounding beauty. After that you can even have lunch with the local villagers in the fields.