Mizoram, the southernmost state of the northeastern states blessed by verdant valleys and hilly terrains. This is one of the smallest state of India, bordered by Tripura, lower Assam and Manipur on the north, Bangladesh on the west and south and Myanmar on the east and south. This state is famous for its exotic beauty and diverse flora and fauna. Hoolock Gibbon and Phayre's Leaf Monkey are the two famous primates found in the deep forest of this beautiful land. Phayre's leaf monkey scientifically known as Trachypithecus phayrei and the hoolock gibbon scientifically called as Bunopithecus hoolock, inhabited mostly in verdant lush green canopy of Mizoram.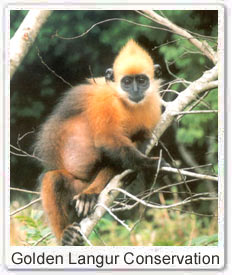 Habitat of Hoolock Gibbon and Phayre's Leaf Monkey in Mizoram :-
The Hoolock Gibbon in Mizoram mostly inhabited in the tropical wet evergreen and semi-evergreen with bamboos in the plains, foothills and hills. They are available throughout the state but mostly inhabited in Champhai, Lawngtlai, Lunglei, Mamit, and Saiha districts.
Wildlife sanctuaries of Dampa, Khawnglung, Lengteng, and Ngengpui, and the Murlen and Phawngpui (Blue Mountains) national parks are some of the areas where Hoolock Gibbons can be visible easily. These can also be found in the rain forests of Mizoram.
In Mizoram, Phayre's Leaf Monkey are found in mixed moist deciduous forest, primary secondary moist evergreen forest and a dense bamboo forest often near tree gardens and semi-evergreen forests.
Threats to Hoolock Gibbon and Phayre's Leaf in Monkey :-
The major threat to the survival of Hoolock Gibbon and the Phayre's Leaf Monkey in Mizoram is their habitat destruction and fregmantation. Most of the forest area in the state is disappearing at an alarming rate due to tree cutting, encroachment, jhum, and monoculture tree plantations. Another major threat to these primates is poaching. These primates are mostly killed by the tribal community of Mizoram for food. Even sometimes these primates are captured for trading. They are also trapped to supply to the zoos. Other threats such as destructive harvesting of bamboo forests for paper mills and pollution which creates disturbance for the wildlife.
Conservation Project Undertaken in Mizoram :-
To prevent both the Hoolock Gibbon and Phayre's Leaf Monkey in Mioram, Government of India has created some important laws for their conservation. To prohibit the killing or capture, dead or alive. Hoolock gibbons are protected under Schedule-I of the Wild Life (Protection) Act of India.
However, a non-profit organization named Community Conservation, based at Wisconsin sponsored a conservation project called Samrakshan under the leadership of Arpan Sharma for the preservation of these primates in Mizoram. Margot Marsh Biodiversity Foundation has also providing immense support to the cause.
Recommendations :-
To protect these primates its necessary to create more number of protected areas and to give better protection to existing protected areas. Also the area outside the existing protected areas like Intanki, Lengteng and Yangoupokpi-Lokchao where the population of these primates are relatively good should be declared as wildlife sanctuaries. It is also essential create more conservation areas Kiasietlah Conservation Area. Also government should take some concrete steps to control jhum cultivation and poaching for food. Even government should planned some awareness campaigns with the help of churches and village headmen for the conservation of these primates.