Introduction :-
Marine turtles are also called as fossil turtles. These are air-breathing reptiles lived in the oceans for over 200 million years. They have streamlined bodies and large flippers and are well adapted to marine environment. Marine turtles migrate long distances between their feeding grounds and nesting sites. Although they live most of their lives in the ocean, adult females must return to beaches on land to lay their eggs. They often migrate long distances between foraging grounds and nesting beaches. There are seven species of marine turtles namely
flatback, green sea turtle, Hawksbill, Kemp's Ridley, Leatherback, Loggerhead and Olive Ridley.
Marine turtles are distinguished by various anatomical features such as the prefrontal scales on the head, the number of and shape of scutes on the carapace, and the type of inframarginal scutes on the plastron. Leatherback marine turtles are very different from other species as they don't have a hard shell. They carries a mosaic of bony plates under the leathery skin. They are the largest marine turtles and gains length up to six to seven feet(2m) ,width up to three to five feet( 1to 1.5m) and weight up to 650 kg on maturation. In compare to them other species are quite smaller having a length of only two to four feet and proportionally narrower.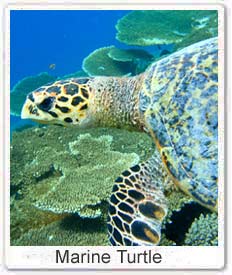 Habitat :-
Marine turtles are mostly inhabited in the tropical and subtropical ocean waters throughout the world. They are available in all oceans except the Arctic Ocean. Of the seven species of sea turtles, six are found in Australia's Indo-pacific region such as green, hawksbill, flatback, leatherback, loggerhead, and olive ridley. Australia have the only nestling ground for the flatback turtles. South Asian waters including India has major nesting ground beaches for five endangered species of marine turtles.
Status of Marine Turtles :-
The status of all the marine turtles are very pathetic. All the aforementioned marine turtles species are listed under the category of Endangered Species Act (ESA). Six species of marine turtles are categorized under the jurisdiction of the NOAA Fisheries Office of Protected Resources. Only the Green turtles and olive ridley turtles have more than one ESA status as they have a breeding population and are listed separately under the ESA.
Threats to Marine Turtle :-
The major threats to the survival of the marine turtles are from natural predators like shark, pollution and their illegal hunting. Marine turtles are caught world wide for the food industry. In many parts of the world, marine turtles are considered as a fine dinning for their flesh. In many coastal communities marine turtles are considered as best source of protein. Even in ancient China, marine turtles are used to cook exotic delicacies. Not only in food industry, Marine turtles are also killed for their skin of the flippers. Their skin is used for preparing shoes and leather goods. Even in some parts of the world, they are also hunted for their shells which are used as combs, brushes and also as a decorative item.
Also the important turtles habitats like coral reefs, seagrass beds, mangrove forests and nesting beaches has changes drastically due to which they are under serious threat. Accidental drowning of turtles in fishing gear, over-harvesting of turtles and eggs, and predation of eggs and hatchlings by foxes, feral pigs, dogs and goannas are also considered as a major threat to the existence of the marine turtles.
Conservation of Marine Turtles in India :-
Indian government is also taking strict actions to protect these five endangered species of marine turtles found in India under the Indian Wildlife Protection Act (1972), and in Appendix I of the Convention on International Trade in Endangered Species of Wild Fauna & Flora (CITIES). The Department of Environment and Forests is giving pivotal importance to the conservation and management of marine turtles in collaboration with the various NGO's and Coast Guard.
To enhance the population of the marine turtles in India, it is necessary to promote the Sustainable fisheries with use of bycatch reduction devices specially Turtle Excluder Devices (TEDs). Also to facilitate the conservation in nesting sites, community participation is essential. Even WWF- India has also proposed some essential interventions for the preservation of marine turtles in India .
With the help of awareness projects, conservation of Green turtle nesting site must be initiated in Gujarat, Goa, Andaman and Nicobar and Lakshadweep islands.
Areas which are deprecated by over fishing can be used as a research area for starting linkages between turtles conservation and fisheries replenishment.
Facilitate dialogue between the trawl operators and State government in Orissa and other states.
A campaign must be initiated for the implementation of fisheries by catch management measures through workshops, posters and informed dialogue among stakeholders.
At various identified sites in Goa, the concept of ecotourism must be promoted.
The Department of Environment and Forest, Govt. of Orissa must set up a turtle Interpretation Centre in the Puri-Konark drive in Orissa.
Print and electronic media must broadcast Communication campaign on turtle conservation to make people aware of this endangered species.