Arunachal Pradesh which lies in the lap of eastern Himalayas, is the largest North Eastern State. It has a wide altitudinal variation that ranges from 50 m, in the foothills to about 7,000 m along its northern parts. The state has different climates and distinct altitudinal conditions that varies from tropical to alpine climates and provides a fruitful condition for the growth of diverse flora and fauna. Due to this Arunachal Pradesh is a paradise for the environmentalist and nature's lover.
Arunachal Pradesh is one of the two biodiversity hot spots in India and provides shelter to 4 genera and 8 species of non-human primates namely Slow Loris (Nycticebus coucang), Rhesus Macaque (Macaca mulatta), Assamese Macaque (M. assamensis), Stump-tailed Macaque (M. arctoides), Pig-tailed macaque (M. nemestrina), Capped Langur (Trachypithecus pileatus), Snub-nosed Monkey (Rhinopithecus roxellanae) and Hoolock or White-browed Gibbon (Bunopithecus hoolock)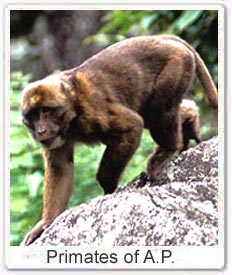 Habitats of Primates in Arunachal Pradesh, India :-
Arunachal Pradesh's various districts are home to his aforementioned species for instance three species namely Rhesus macaques, Assamese macaques and capped langurs were found in the western districts of Tawang and West Kamang while seven species such as Rhesus macaques, Assamese macaques, pig-tail macaques, stump-tail macaques, capped langur, hoolock gibbon and slow loris were found in the eastern districts of Lohit and Changlang.
Status and Biogeography of Primates in Arunachal Pradesh, India :-
Slow Loris :- The slow loris is a type of macaque which in available in all parts of the state. Mainly at a height of 800–900 m in the tropical dense forest. The scientific name for this species is Nycticebus coucang There is no correct data available to know its status in the state. But it is assumed that this species is under serious threat due to deforestation as a result of jhum cultivation, timber felling in the tropical forests and development projects of the state.
Rhesus Macaque :- This species of macaque are the most common type of macaque, scientifically known as Macaca mulatta. These are found in the low-lying region at the foothills at an altitude of 1,000 m in all major vegetation types. Rhesus Macaque of Northern India loves to live in cities and in villages whereas the rhesus macaque of Arunachal Pradesh are totally different. Rhesus of Arunachal Pradesh are very shy and secretive and does not like to come in contact with the human beings. This change is due to the fear of hunting by the tribal people and other ethno-zoological reasons. Rhesus of Arunachal Pradesh like to live in forests. So, to save these animals from extinction, there is a immense need of protection of their original habitat.
Assamese Macaque :- Assamese Macaque are scientifically called as Macaque assamensis. These are the second most common macaque of Arunachal Pradesh. Assamese Macaque are available in all kind of dense forest present in the foothills to the forests present at a height of 2000m. These species are under constant threat of vanish due to construction and damage to their natural habitat. Also their strength is reducing drastically due to the hunting habit of the tribal people for food and medicine . Some of their body parts are also used as decorative items.
Stump-tailed Macaque :- Stump-tailed Macaque which are scientifically called as Macaque . Arctoides found mostly in the tropical wet evergreen and tropical semi-evergreen moist forests of Tirap, Changlang and Lohit districts stretches up to south bank of Lohit River. Some times they can be visible in the Namdapha National Park. These animals love to live together and always moves in a group. There existence is also in danger due to large scale deforestation, jhum cultivation and clearing of forests for tea plantation.
Pig-tailed macaque :- Pig-tailed macaque are rarely visible in the tropical rain forests of Tirap and Changlang districts of Arunachal Pradesh. These are scientifically known as Macaque nemestrina. These animals are mainly restricted to Namdhapa National Park. Their existence is also in danger due to deforestation
Snub-nosed Monkey :- Scientifically known as Rhinopithecus roxellanae. These are found in the high altitude area, adjacent to China such as Tawang district and Vijoynagar Circle of Changalang district of Arunachal Pradesh bordering China and Myanmar. However sometimes they are also visible in the Dibang Valley and Upper Siang district of Arunachal Pradesh. Their existence is in great danger due to the Jishu tribe residing in the mountainous region of the Vijoynagar Circle.
Hoolock gibbon :- The only ape species in India, scientifically called as Bunopithecus hoolock. They are mostly found in the state's southern and eastern part. They are mostly available in the in the dense tropical semi-ever-green, wet evergreen and moist deciduous forests of Tirap, Changlang, Lohit and Dibang valley districts. This form of primate is also found in the south and east bank of the Dibang–Brahmaputra rivers. They can also be seen in the Namdhapa Tiger Reserve and Kamlang Wildlife Sanctuary in group. They are under serious danger due to poaching and destruction of their habitat.
Capped langur :- These are one of the common species of macaque scientifically known as Trachypithecus pileatus. They are found through out the state, mostly in the tropical semi-evergreen, moist evergreen and deciduous forests except the land in between Siang river and Dibang river. They are also in danger due to deforestation and poaching for food and medicinal purpose. These primates of Arunachal Pradesh are under constant threat of extinction due to poaching for food and medicinal purpose, deforestation, jhumming, tea plantation and construction work. So, it is necessary for the government to take immediate and essentials measures to prevent the lives of these special macaques found in Arunachal Pradesh state of India