In 2005, following the open exposure by the media on the sudden disappearance of the tigers from the Sariska Wildlife Reserve, The Prime Minister of India set up the Tiger Task Force to strengthen the conservation of Tigers in the country. The extensive media reports created such an impression that the same situation is prevailing in all the major national parks and wildlife sanctuaries in India. The tigers are the symbol of country's wilderness and are considered as the most fearsome predators in the world. And so, declining of Tigers is matter of serious concern, which calls for the composition of the special task force.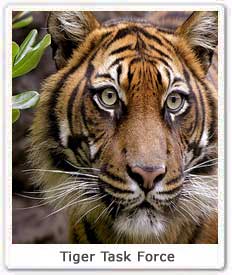 The Tiger Force is constituted by five consecutive members that includes :
Ms Sunita Narain, Director, Center for Science and Environment
Shri H S Panwar, Ex Head, Project Tiger and Ex Head, Wildlife Institute of India
Prof Madhav Gadgil, Environmental Historian and member, National Board for Wildlife
Competition for eco tourism income between the various groups leads to social disharmony.
Shri Valmik Thapar, Member, National Board For Wildlife
Shri Samar Singh, Ex Secretary, Govt. of India and Member, National Board for Wildlife
The Tiger Task Force has initiated a large number of conservation initiatives as its guiding principles for all the Tiger Reserves in the country, which include : -
To look into the various problems of tiger conservation and suggests methods for its improvement.
Checking poaching of tigers and all the illegal practices followed in the wildlife sanctuaries.
To improve the method of counting and forecasting the tigers.
To educate the local indigenous population inhabitant in the parks towards the conservation of tigers.
The task force should summit its report within three months from the date of notification and should review it from time to time.
To break the international trade network in wildlife body parts and derivatives.
The sitting fees and travel cost would be reimbursed to the members of the Task Force as per the norms.
Expanding the undisturbed areas for tigers by reducing the human activities in that area.
After the successful implementation of the Tiger Task Force the future of the tigers seems to be secure. According to the latest tiger census reports, the current population of tigers estimated is 1,657. Project Tiger incorporated in 1973, for the preservation of the endangered Panthera tigris would facilitate the working of the Task Force and would render it all the necessary help. Project Tiger has been given statutory as well as administrative powers and has been suggested that the reports related to the Project Tiger will annually be sent to the Parliament.
India onces the home to to the world's largest tiger population, has been losing this precious specie due to poaching and other human activities. And Tiger task force is the most effective way to safeguard the tigers future.