Classification
Other names :
Paper flower is the other name used for the Bougainvillea.
Description :
Bougainvillea is a popular woody scandent shrub. It grows to the height of 10 -15 feet. The flowers are classic red, purple, orange, white, pink and cream, which bloom all year. The leaves are ovate, rich green or variegated, colourful bracts surrounding small tubular flowers. The woody trunk tends to be twisted and the stem have sharp thorns and dark green leaves. The fruit is narrow five lobed achene.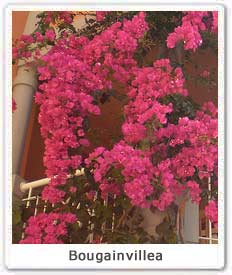 Other Species :
Bougainvillea buttiana, Bougainvillea peruviana, Bougainvillea spectabilis, and Bougainvillea spinosa are some of the other related species of the Bougainvillea.
Location :
It grows in tropical and sub tropical forests in India. It is also found in Sultanpur National park,
Kanha National Park
and Eravikulam National Park in India.
Cultivation :
Bougainvillea plant can be propagated through the semi ripe cuttings, hardwood cuttings or layers. Cuttings should be planted in the shady areas until they produce the roots. It needs fertilizers and well drained soil for its growth. It requires full Sun for its growth. It needs very little water once established. It must be fertilized every month. It should be watered properly in the summers and kept dry in the winters.