Classification
| | |
| --- | --- |
| Kingdom : | Plantae |
| Division | Magnoliophyta |
| Class: | Magnoliopsida |
| Order : | Myrtales |
| Family : | Myrtaceae |
| Genus : | Eucalyptus |
| Zoological name : | Eucalyptus globulus, Eucalyptus polybrachtea |
| Found In : | Nagarhole National Park and Bandipur National Park |
Other names :
Tailapatra, Sugandhapatra, Tailaprana, and Nilgiri Taila are the other names used for the Eucalyptus.
Description :
Eucalyptus is a tall evergreen tree. It attains the height of more than 300 feet. Leaves of the tree on juvenile shoots are opposite, sessile, cordate-ovate and covered with a bluish white bloom. The adult leaves are alternate, lanceolate and are 6-12 inches long and 1-2 inches broad. It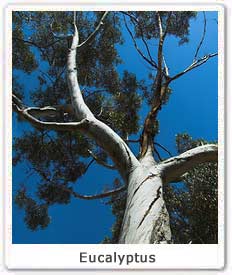 flowers are cream in colour. The appearance of its bark varies with the age of the tree. Its bark consists of long fibers and can be can be pulled off in long pieces. Stems of the seedlings and coppice shoots are quadrangular. Flowers are in cymose panicles. The fruit is a capsule.
Other Species :
Eucalyptus abdita, Eucalyptus acies, Eucalyptus apiculata, Eucalyptus albopurpurea, Eucalyptus alligatrix, Eucalyptus ammophila, Eucalyptus amplifolia, Eucalyptus andrewsii are the other related species of Eucalyptus. There are 700 species of Eucalyptus.
Location :
It is widely grown in Tamil Nadu, Andhra Pradesh, Gujrat, Haryana, Mysore, Kerala and in the Nilgiri Hill. It grows well in deep, fertile, well drained loamy soil with adequate moisture. It is also found in
Nagarhole National Park
and Bandipur National Park in India. .
Cultivation methods :
Eucalyptus grown in well drained sandy soil. It is propagated through seeds, soft wood cuttings and semi hard wood cuttings. At the time planting it must be taken into account that ts roots are not broken. It needs water before and after planting. It requires full sunlight.
Medicinal uses :
Eucalyptus is known for its use either as an essential oil or leaf tea for its ability to relieve congestion and ease breathing in colds. It oil is also used as the pain reliever foe sore and overextended muscles. The essential oil of Eucalyptus contains cineole, a potent antiseptic that helps in killing the bacteria and fungi. It helps in increasing cardiac action. It is taken in all types of fever. It helps in purifying the blood. It lowers the blood sugar. It brings relief to the patients of Asthma and bronchitis. It is the excellent topical remedy for aching joints and rheumatism. It helps in improving the blood circulation.
Other uses :
Eucalyptus is used as the pulpwood in the manufacture of the paper as well as raw material. It is used as the poles for the construction of huts and houses. It is used in making plywood, doors and windows.