Place :
Karnataka.
Major Attractions :
Elephant, King Cobra, Krait, Python, Monitor Lizard ,Toads, Tigers.
Area Coveredrea :
64,330 hectares
Ideal Time to Visit the Park :
October and April.
Nearest Attractions :
Madikere, Bandipur National Park, Madhumalli.
Some Major Accesses :
Mysore (80km).
Things to Know
Where is the Nagarhole National Park
Sharing its boundaries with Bandipur National Park, Nagarhole National Park is situated 90km away from Mysore in Karnataka. Interestingly, these two sanctuaries for a part of Mudumalai Sanctuary in Tamil Nadu and Wayanad Reserve in Kerala. Nagarhole is a tiger's home and some of the rare wild species of India. This national park of India gets irrigated by the waters of Kabini river, which has a dam on it that separates Nagarhole from other sanctuaries in the surrounding area.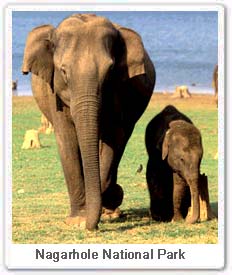 Important Dates in Nagarhole's History
Nagarhole was enunciated in 1955 as a game sanctuary. Realizing its importance in wildlife conservation, the area of the park was extended by combining Mysore forests with Nagarhole National Park. It was 1974, that this area took a shape of full fledged National Park. Apart from Kabini River, which drains most of the area here, there are other three rivers in the region including: Lakshmana, Teentha and Nagarhole. There are seasonal streams as well which merge into the four rivers here.
Climate at Nagarhole National Park
Summers here, are hot and dry with mercury level rising maximum to 33 degree centigrade. Summer months are best to spot tigers. It is the time when animals gather around lake and enable an exciting wild life viewing. The winters are cooler here but short spanned. From November to January are the winter seasons with temperature dipping to a minimum of 14 degree centigrade. This time is exceeding pleasant and best for those who do not wish to sweat much. From June to September are the rains which makes roads washed out and area swampy. We recommend not to visit this park during these months.
The Ecological System in the Nagarhole National Park
The Flora in the Nagarhole National Park
The park has mostly deciduous terrain with a small area under dry tropical forests towards the east. Tectona Grandis and Dalbergia Latifolia trees are found in abundance in southern parts of the park. The eastern parts along Bandipur area and Sub mountain valley houses a large number of Wrightia Tinctoria and Acacia as part of dry forests here.
The Fauna in the Nagarhole National Park
Nagarhole National Park has sprightly wild life. Among the animals found here, most of the them are residents of Nilgiri Hills. Apart from Tigers, Niligiri Thar, Nilgiri Langur, bisons,
leopards
, asian elphants,
wild boar
, deer,
dhole
and porcupines are the major attractions of this park. Presence of grassy swamps is ideal for inhibiting snakes as well.
The Avifauna in the Nagarhole National Park
There are a few canopy tress in the park that are as high as thirty meters and are hom eto some of the rarest species of birds in India like Malabar Trogan, Malabar Pied Hornbill and the Crested Hawk eagle. In all there are 250 variety of birds that are found here. Visit this park to explore the vivacious bird life.
The Safaris in the Nagarhole National Park
For wild life explorers, there are innumerable options to move around the park. Jeeps can be rented to take a drive through the park. To have a more intricate view of the park, you can opt to go for an elephant ride. Hiking trails here can be very exciting but this excitement is restricted to a small area as you may become prey of a tiger with bright eyes, waiting for you behind the bushes. If you ask, the best way then jeeps are the obvious answer.
Nagarhole Wildlife Travel Circuit
Bangalore - Mysore - Ranganathittu - Nagarhole - Bandipur - Mudumalai - Ooty - Cochin - Periyar - Varkala - Trivandrum
How to Reach Nagarhole National Park
Air :
Nearest airport is located at Mysore, 80km away.
Rail :
Railhead closest to Nagarhole is Mysore which is 80 km away. Nanjangud is another railhead with a fewer trains to Nagarhole which is 55 km away.
Road :
Buses connect Nagarhole to Bangalore (a ride of about 6 hours) and to a network of smaller towns across Karnataka, Tamilnadu and Kerala.