Location of the Pushkar Lake :
Pushkar is an artificial lake located in the state of Rajasthan in India. It is situated near the Pushkar town in the district of Ajmer. The lake is beautifully surrounded by the deserts and hills from all the sides. It covers the total area of about 5 km. It gets separated from the city of Ajmer by the snake mountain known as Nag Parbat. The pious Pushkar Lake is regarded as the sacred lake among the Hindus in India. It is the only lake connected with Lord Brahma in the whole country. The city of Pushkar is situated on the banks of the Pushkar Lake. The lake has around 400 temples, 52 palaces and 52 ghats and each ghat has water of special powers. The lake is known for its serene atmosphere throughout the year. Some of the most popular among them are Brahma Ghat, Gau Ghat and Varah Ghat.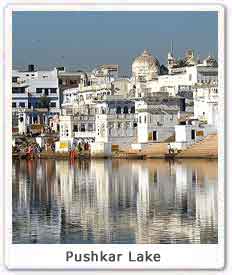 History of the Pushkar Lake :
The lake was constructed in the 12th century with the estabishment of the dam across the headwaters of the Luni river. Among the Hindus, it is believed that the lake was created with the lotus blossom dropped from the hand of Lord Brahma, during the battle with the demon Vajra Nabh. It is same destination where the sage Vishwamitra mediated for the thousands of years. Also the Sanskrit poet and the playwriter Kalidas, chose the setting for his masterpiece Abhigyanam Shankuntalam here.
Significance of the Pushkar Lake :
Pushkar lake is mostly known for its religious importane. Every year this sacred lake of Pushkar attracts the thousands of pilgrims from all around the world. During the full moon day of Kartika Purnima in the month of November, devotees gather here to take a dip in its holy water. It is believed that by taking a bath in the lake one can achieve moksha.
Man Mahal Palace :
Man Mahal Palace is located in the banks of the Pushkar Lake. The magnificent Mahal was built by the Raja Man Singh. He built this palace so that he can visit the city of Ajmer and Pushkar easily. Presently it is the tourist bungalow run by the Rajasthan Tourism Department.
Pushkar Fair :
It is the most colourful fair celebrated on the banks of the Pushkar Lake. Held in the month of November, it is the world's largest camel fair and is truly amazing. Thousand of camels and cattle are traded here during the fair. Camels are decorated beautifully and paraded on the sand dunes. Tribal villagers dressed up in their traditional costumes, come together for a kaleidoscopic open-air festival filled with camel races, acrobats, fortune-tellers, shopping, dancing and feasting. The fair ends on the full moon light on the Hindu month of Kartik. The main attractions of the fair are camel races, Laadoo Oonth, music and dance.