Place :
Foothills of Shivalik Ranges in Himalayas foothills.
Major Attractions :
Elephants, deers, Laopards and Ghorals.
Area Covered :
820.42 sq km.
Ideal Time to Visit the Park :
From December to March. Beyond April, it is extremely hot here.
Nearest Attractions :
Haridwar(9km), Rishikesh(6km)
Some Major Accesses :
Kotdwar(25), Dehradun(25km).
Things To Know
Where is the Rajaji National Park
Rajaji National Park is situated along the hills and foothills of Shivalik ranges in the Himalayan foothills and represents the Shivalik eco-system. On the map it is located between Haridwar (Latitude 290 56' 40") and Dehradun (Latitude 300 20' North) and 790 80' E Longitude (Dehradun 780 01' 15" E (Ramgarh), Chillawali- 770 54' 30" East).
The Climate in the Rajaji National Park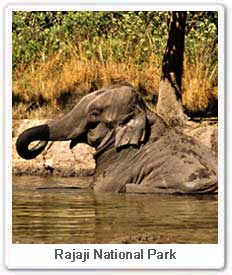 The three main seasons in the Himalayan foothills are: winter, summer and monsoons. The best time for a safari or a bird watching trip is during winter (November to February) when the days are pleasant (20-25 degree Centigrade), nights cold and humidity is low. Temperature rises rapidly to 40-48 degree Centigrade in the hot season (March to June) and rainfall increases with the occasional thunderstorm. Humidity is high in the rainy season (July to October), with over 750 mm of precipitation in July to August, and there is little temperature variation. Annual rainfall ranges from 1200-1500 mm.
Important Dates in the Rajaji's History
With a wide expanse over 820sq km, Rajaji National Park is an amalgamated form of three wildlife sanctuaries: Rajaji, Motichur and Chilla. All these sanctuaries with different vegetation zones and wild life were combined together in 1983 to form a National Park. A combined form of these distinvt wildlife sanctuaries came to known as Rajaji National Park.
The Ecological System in the Rajaji National Park
The Flora in the Rajaji National Park
Broadleaved deciduous forests, riverine vegetation, grasslands and pine forests form the range of flora at these parks. The dense jungles here are home to vivacious wildlife here. The varied topography of the national park is also responsible for vivid animal life inhibited here. The under-wood is light and often absent, consisting of Rohini (Liollotus philippinensis), Amaltas (Cassia Fistula), Sandan (Ougeinia Oojeinensis), Pipal (Bauhienia Lazan), Mahal (Pyrus Pashla), Chamaror, (Ehretia Laevis), Aonia (Emblica Officinalis), Kachnar (Bauhienia Variegata), Ber (Ziziphus Mauritiana), Chilla (Casearia tomentosa), Bel (Aegle Marmelos), etc.
The Fauna in the Rajaji National Park
Endowing a wide variety of fauns in its lap, Rajaji National park has a lot to offer to wildlife eccentrics. With pristine scenic beauty and rich bio-diversity, Rajaji is a much reckoned park of India. There are about 23 species of mammals that inhibit this park.
Indian elephants
, spotted dear,
sambhar deer
, barking deer, blue bull,
hog dear
, wild boar, Jungle cat, Rhesus monkey and Lepidoptera are the mammals found here.
The Avifauna in the Rajaji National Park
There are about 315 species of birds that inhibit this park. India's National bird, Peacock is found here in abundance. Innumerable variety off butterflies and small birds add to the beauty of this place. Rusty cheaked Scimitar, Babbler, Golden-spected Warbler, Chestnut-tailed Starling, Brown Hawk-Owl, Drongo Cuckoo, Great Hornbill are only a few names of birds that are found here.
The Rides in the Rajaji National Park
Its important to take permissions from the forest department before entering the premises of park. The park can be best viewed on an Elephant safari. Alternatively one can also take Jeep safari to see the park.
Rajaji National Park Travel Circuit
Delhi - Haridwar - Rajaji National Park - Rishikesh
How to Reach Rajaji National Park
Air :
Nearest airport is Jolly Grant, Dehradun, 33km.
Rail :
Nearest railhead is at Haridwar ( 8km.) and Dehradun (24km.).
Road :
The National Park is 220 kms. from Delhi & from Lucknow it is at a distance of 510km.